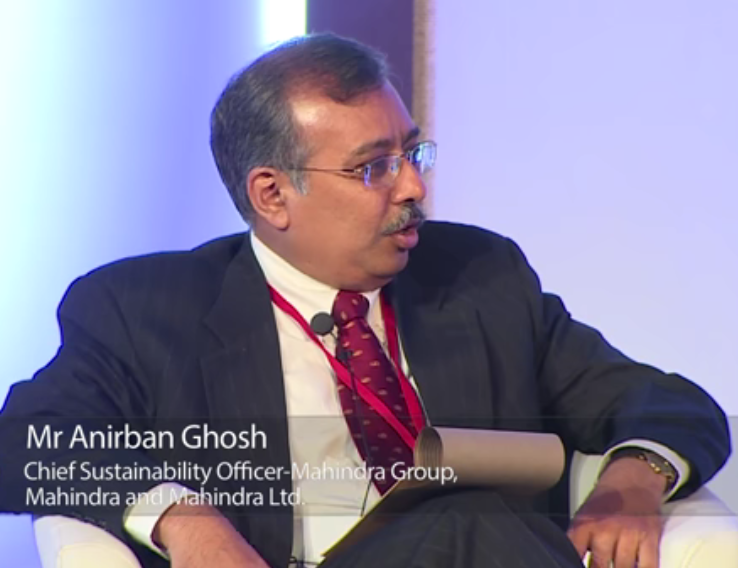 Mumbai, 12 February, 2019 (GPN) : The US$ 20.7 billion Mahindra Group has been named an "Organization to Watch" by GreenBiz Group in the 2019 edition of its annual "State of Green Business" report. Mahindra was recognized for its efforts to double its energy productivity as the first EP100 signatory, with the Group also committing to become carbon neutral by 2040.
Commenting on this listing, Anirban Ghosh, Chief Sustainability Officer, Mahindra Group, said, "We are privileged to be on this honor roll published by the GreenBiz Group. It is exciting to use innovative new technologies to drive our energy efficiency and discover possibilities in the overlap of planet and profit, as we progress on the path toward sustainable business practices."
Each year, the report looks at 10 key trends and dozens of metrics, assessing how, and how much, companies are moving the needle on the world's most pressing environmental challenges. The report is produced in partnership with Trucost, part of S&P Global, a world leader in helping companies, investors, governments, academics and thought leaders understand the economic consequences of natural capital dependency.
"These organizations are showing the way for the business community and others to accelerate progress in sustainability," said Joel Makower, Chairman and Executive Editor of GreenBiz Group, and the report's lead author. "We are proud to showcase Mahindra on this list and applaud them for their leadership work."
The trends in this year's report focus on the growing attention to product and packaging reuse, the growth of corporate action on deforestation, the rise of agricultural practices to mitigate climate change, the growth of electric trucks and buses, and the increased attention by institutional investors on companies' environmental and social commitments and performance.
In addition to the 10 trends sustainability professionals should be tracking, the report offers more than 30 metrics for nearly 2,000 companies, assessing the progress, or lack thereof, on a wide range of topics, including supply-chain impacts, natural capital impacts, greenhouse gas emissions and investment in greener products and business models.
The report can be downloaded from GreenBiz.com here: http://bit.ly/2WwWb7Q
The Mahindra Group is a USD 20.7 billion federation of companies that enables people to rise through innovative mobility solutions, driving rural prosperity, enhancing urban living, nurturing new businesses and fostering communities. It enjoys a leadership position in utility vehicles, information technology, financial services and vacation ownership in India and is the world's largest tractor company, by volume. It also enjoys a strong presence in agribusiness, aerospace, commercial vehicles, components, defense, logistics, real estate, renewable energy, speedboats and steel, amongst other businesses. Headquartered in India, Mahindra employs over 2,40,000 people across 100 countries.
Learn more about Mahindra on www.mahindra.com / Twitter and Facebook: @MahindraRise