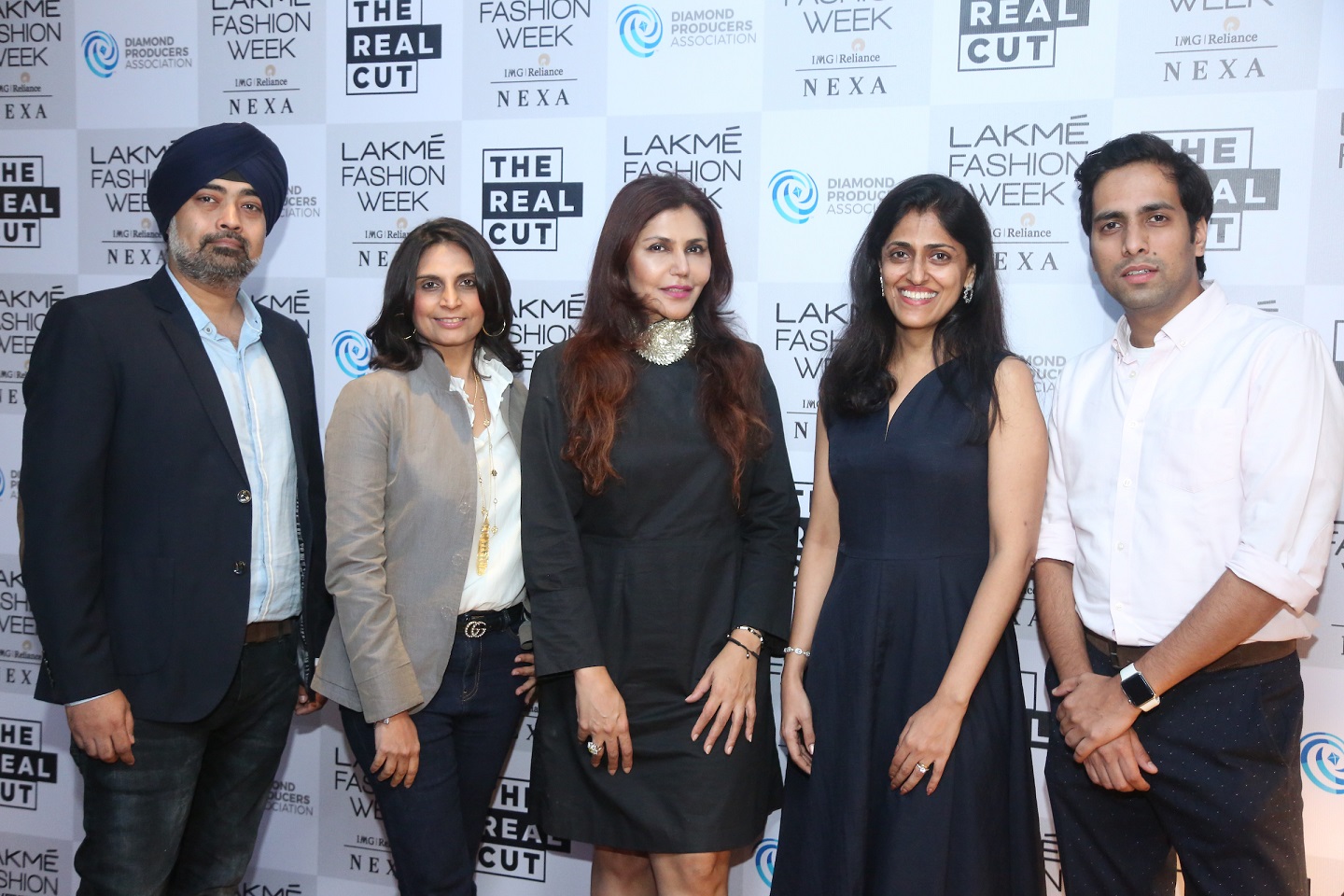 •Six winning designers will showcase their work for the first time at Lakmé Fashion Week Summer/Resort 2019 in collaboration with emerging fashion designers from the industry at the "Real Cut"
Mumbai, 25th January 2019 (GPN) : Diamond Producers Association in association with Lakmé Fashion Week announced winners of 'The Real Cut', a platform which will bring together emerging Diamond jewellery designers from iconic jewellery brands to define the trends of the future while drawing on their inspiration from billion-year-old diamonds. Shazia Motiwala of A.S Motiwala, Bhavana Jhakia of Om Jewellers, Rupam Singhal of Orra, Akshita Garg of Chiripal Jewellers, C. Raghu of Kirtilals and Rajeshwary Singh of Senco, emerged as the final winners of the programme. The Real Cut will give these winners anopportunity to showcase their work at Lakmé Fashion Week Summer/Resort 2019 with designer labels Rara Avis by Sonal Verma, Verandah by Anjali Patel Mehta, and Saaksha & Kinni by Saaksha Bhat and Kinnari Kamat.
The six winners were handpicked by an esteemed panel of judges from diverse backgrounds of the jewelry and fashion fraternity in Mumbai on 21stJanuary 2019 at Amadeus, NCPA. The jury comprised Richa Singh – Managing Director at Diamond Producers Association, Fashion Designer (Jade) – Monica Shah, Rahul Vijay – Fashion Editor Elle, Nisha JamVwal – Luxury Brand Consultant and Jaspreet Chandok – Vice President and Head of Fashion, IMG Reliance.
The collaboration that features diamonds with only prêt wear collections, will be a first-of-its-kind initiative in the country's fashion circuit. The programme was open to diamond jewellery designers who associated with leading jewellery brands from across the country and have been in the business or are practicing their craft for the past three to eight years. 'The Real Cut'saw over 80 applications from talented jewelry designers across the country. The designers demonstrated a combination of innovative design & techniques to celebrate diamonds. They also were eloquently elaborate on the unique creative ideas and methods employed to conceptualize their original diamond jewellery collection.
Richa Singh, Managing Director, Diamond Producers Association (DPA), said: "Diamonds are an integral part of Indian fashion enhancing every look, bridal or everyday pret wear, so it made perfect sense for us to partner with Lakmé Fashion Week which is the country's leading fashion & lifestyle platform. I was excited by the diverse designs showcased by all the talented emerging Diamond jewellery designers from across India. I look forward to seeing their trend-setting winning collections on the runway which will beautifully highlight the fit of everyday wear diamond jewellery with contemporary outfits. The Real Cut is a disruptive platform which will surely provide a starting point for these young turks."
Jaspreet Chandok, Vice President and Fashion Head- IMG Reliance, said: "Lakmé Fashion Week is proud to have associated with the Diamond Producers Association to launch the Real Cut. We are sure that the winners are going to work together with the fashion designers to create a line which will reach out to wider audiences." ENDS