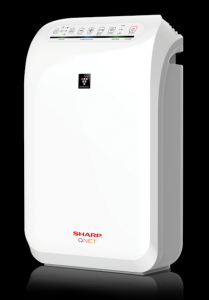 MUMBAI / MALAYSIA, 9 MAY, 2017 (GPN) : Among some interesting wellness and lifestyle products sold by QNET, the Hong Kong-based direct selling company in India, is the Plasmacluster Ion air purifier. Considering the high levels of pollution plaguing our metro cities in particular, this product is a welcome addition from the QNet stable in the Indian market, helping to create a healthy and safe home environment. QNET has collaborated with Sharp Corporation, the Japanese electronics giant, a leading name in technology innovation to develop the QNet-Sharp Plasmacluster Air Purifier.
This indoor air purifier utilizes Sharp's patented Plasmacluster Ion Technology to create a fresh indoor environment by emitting positive and negative ions that spread throughout the room and surround airborne particles. It also deactivates suspended airborne mould, viruses, dust mite allergens and bacteria.
The True HEPA Filter captures 99.97% of particles as small as 0.3 microns that pass through it, including pollen, mould, pet dander and dust. The special Antimicrobial Layer provides extra protection against viruses.
The company claims that users have reported a reduction in indoor allergy triggers and improved health and immunity. The QNET-Sharp Air Purifier also adds humidity to the air for improved air quality and maximum comfort, especially in colder weather when the air tends to dry out. It also helps reduce static electricity that results from dry air. This model is ideal for room sizes up to 430 sqft.
With a two-year onsite warranty and a 5-year filter life, the product fits in perfectly with the Indian consumer psyche that is geared towards obtaining good value for money. Priced at Rs. 32,990 this product is most desirable in cities like Delhi, which the WHO recently called the second most polluted city in the world. The effectiveness of Plasmacluster Ion Technology has been certified by more than 22 independent and renowned research organisations across the world and by the British Allergy Foundation.
Air pollution in India is a serious issue with major sources being fuelwood and biomass burning, fuel adulteration, vehicle emission and traffic congestion. India is home to 13 of the 20 cities with the most polluted air in the world. The Air (Prevention and Control of Pollution) Act was passed in 1981 to regulate air pollution and there have been some measurable improvements. In the present environmental circumstances, products like these will certainly find a place in Indian homes.Ends

( Contact the Author on : +919768497333 / +918779862883 / +918108510506 )