•A rich posse of global and local brands vie for attention at the UBM India-show.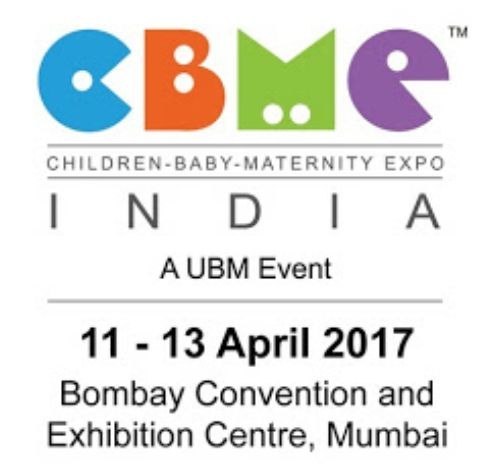 Mumbai, 11th April, 2017 (GPN) :  UBM India launched the 5th edition of the uniquely positioned Children, Baby Maternity Expo India 2017 (CBME India) today at the Bombay Convention and Exhibition Centre, Mumbai. The largest children, baby and maternity product business expo in India, the CBME India offers unrivalled business opportunities for local and global manufacturers, and sellers of baby products to connect, network and conduct business.The inaugural ceremony of CBME India 2017 took place in the presence of key dignitaries, Mr. Anuj Jain – Vice President – Brainbees Solutions Pvt. Ltd. (FirstCry); Mr. Rajesh Vohra – MD,CHICCO; Mr. Naresh Khattar – MD,MEEMEE; Mr. Yogesh Mudras – MD, UBM India and Mr. Abhijit Mukherjee – Group Director, UBM India, amidst a sizeable  industry gathering. A choice of dealers, distributors, influencers and merchandise heads from modern retail businesses, online retailers, service providers, business investors, and franchisee seekers were also present.
The show has brought together more than 100 exhibitors and over 350 major Indian and global brands.  The expo included world-renowned brands like Chicco, MeeMee, Mother Touch, Sunehri Exports, Cozy N Safe, Florite Baby, Hiplik, BabyCenterIndia, Pooja Creation, Adore Baby, Kaboos, Sebamed, Tiny Bee, Rikang, GAIA Skin Naturals amongst others. Enthusiastic participation from nine countries including China, Australia, Vietnam, Thailand, US, UK, Canada, Singapore and Italy for the first time are providing Indian manufacturers with insights into the latest trends and technology, according to industry observers.
An exhaustive spectrum of quality, technologically-advanced and aesthetically pleasing baby care products, toys, baby food, kids wear, maternity products, organic clothing, nutraceuticals, ergonomic furniture, stationery, infant safety technology, brain development tools and more were on display. Most significantly, the event is well-supported by key associations such as the Toy Association of India (TAI), an apex body of the toy fraternity in India representing over 500 industry members; the All India Association of Industries (AIAI); the Apparel Export Promotion Council (AEPC) and the Indian Importers Chamber of Commerce and Industry (IICCI).
Adjacent to the expo, a two day conference was organised to deliver unique and innovative value propositions to exhibitors and visitors alike. Day 1 focused on the subject of 'Intellectual Property Law and Licensing'.  A panel discussion on what licensors should expect from the licensees in India and vice versa was held. It also discussed ways to raise awareness of the lucrative benefits of licensing to the Indian business community.
Day 2 will witness a Fashion N Kids Conclave that will veer on innovations, quality control and technology in the kids wear segment. Topics of discussion will include – 'Kids wear: An emerging sector in Textile industry in India.
Role of Viscose in kids wear, 'Quality control issues in kids wear' Innovation in Diaper Technology  for kids Innovation in Garmenting Techniques and 'Use of Dyes & Chemicals in kids wear'. Panel discussions, presentations and Q & A sessions will also be a part of Day 2.
To lend more perspective, the Cool Kids Fashion India event highlighted premium kids fashion accessories and clothing (age 0-14 years) from both well-known & emerging designers, brands and manufacturers.The Innovation Product Corner showcased creations that highlighted design excellence, product safety, innovations and much more.
Speaking at the inauguration of CBME India 2017, Mr. Yogesh Mudras, Managing Director, UBM India said, "The domestic baby, maternity and childcare products market was considered to be a niche industry from an Indian perspective. However, with an increase in disposable income of parents, a change in their consumer habits and a renewed focus on child safety and well-being, this high potential industry is now ready for a major growth spurt that will transform it into an independent and thriving industry. An increasing media exposure, awareness amongst women, the culture of malls and online shopping have provided a platform to the branded segment to launch and position their offerings to India's affluent consumer base. And yet, apart from conventional practices, stringent rules relating to infant care that rightfully exist, sometimes create a paucity of information and availability of novel products in this segment."
He added, "It is here that unique initiatives like CBME India play a very important part to provide information and education as well as the inspiration to raise the bar for the children and maternity market. While the baby care and children products are evolving, an even greater potential exists for the maternity products segment that needs to be unravelled."