Book to be launched in London Today on December 2nd.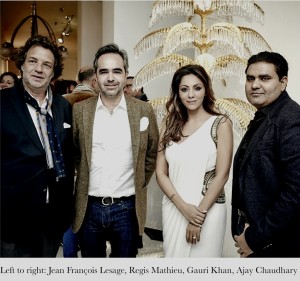 Mumbai, December 2, 2016: Leading real estate luxury conglomerate, Ace Group have signed on Gauri Khan as brand ambassador to design signature interiors for their premium residential projects. The group has also elected to showcase their collaboration through a commemorative book on contemporary living and design with a beautiful visual narrative by Gauri Khan.
Mr. Ajay Choudhary, CMD, Ace Group, says, "We are privileged and excited to associate with Gauri Khan on our premium residential projects. Her coming on board to design luxury apartments for ACE fits perfectly with our core values of creativity and quality. Gauri has proven herself to be an artiste who constantly raises the bar in the field of interiors; her style philosophy and eye for perfection make her the innovator she is."
"Luxury is a state of the mind which is larger than life. We believe in creating spaces that enable you to live life to the maximum. A home is no longer a mere necessity; people are upgrading their lifestyles through travel and increased exposure. Homes of the Ace Group will provide the ambience that encourages the essential feeling of time and space, which will be the true hallmark of luxury in future," he adds.

In the book, Mrs. Khan describes her passion for design as follows, "Design, for me, is the driving force in my life, opening my mind to innovative ideation and impelling me to break my own barriers of thought and possibility. My curiosity to discover inventive forms and path-breaking ideologies never dims and the thrill of creating something unique and functional is what I thrive on," she says.
"Most of my inspiration comes from travel; my journeys across global citadels of interior design have greatly contributed to my evolution and growth. All the collaborations I have lent my name or expertise to, all my past experiences with art, production and design – every creative endeavour has helped guide me to launch Gauri Khan Designs, expanding the brand and its outreach, collection after collection."
"This book is a collation of the various aspects of my craft, from projects I have associated with, to my stores and the homes I constantly aspire to bring to life," she says.
The book will be launched today on 2nd December, 2016 in London. The project has been conceptualized by Tanaaz Bhatia, CEO of Bottomline Media.