Q…Where you see Jeet Gian as an author vis-a- vis other fellow authors who is known for his humour? 
 Farah… Most of the authors are writing romance or myth genre these days. Writing humour is very hard as it requires not only lot of practices and out of box thinking but also requires lots of sleep! I am kidding. Coming back to this book. I found humour is so original . Jeet is really a funny author.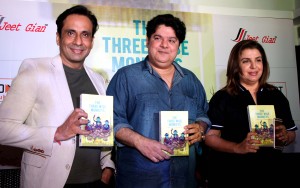 Sajid :- Congo Jeet Gian for this book. I think it's a funniest situation-comedy-fiction book. Its humour and characters  reminded my previous movie Houseful. Jeet is one of the master of comedy in Indian literature I feel so.
 Q…Will you be adopting book for the movie? 
Sajid. ..Yes