Winners get a chance to represent India at the International event with 25 countries participating in the same.
 
 
Pune February 16, 2016; Pune witnessed a glamorous end to this weekend where 30 participants from all over the country were put up on one stage and battled it out to win the "Face of India" which was held at the Amanora Town Centre,
The winners of the Face of India pageant were as under:-

1st Runner up Jitesh Thakur and Surabhi Nigam
2nd runner up Ankush Kukreja and Reena Barot 
Face of India Winners – Riddhi Kumar and Rishabh Bajaj
The winners have not only won the title but will also represent India for the Asia New star Model Contest 2016 at the ASIA MODEL FESTIVAL 2016, Suwon Hwaseong Fortress, and South Korea.
 
This season of FOI turned out to be a grand success and was widely appreciated with the Grand stage which was specially created on top of a water body with fountains, breathtaking backdrops and awesome music.
International Model Elena Fernandez, Badal Saboo, MD – Pune Fashion Week, leading fashion designer Nivedita Saboo and Delegates from Korea Mr. Yang Eui Sig [Chairman KMA], Ahn Mee Ryu [President of KPMJIA], Yang Haeil [Fashion Designer], Park Sungki [Maxim] to name a few were a part of the jury for this event along with Rohit Gupta and Vikram Kotnis.
MBC, Korea's best academy's CEO Mr. Kim Chae Ho & CEO of Xeo Hair, Shin Yong Jin, organized hair & make up seminar for the participants at the venue explaining the latest trends in the beauty industry.
 
The commencement of the event was done by greeting the guests by the amazing sounds of Dhol Tasha performance which was followed by a cultural integration with Kathak performances by the artists of Nrityadham and multi talented and elegant danseuse Mrs. Mrunal Pawar. As a part of entertainment Rocky gave his melodious voice to a few English and Hindi peppy tracks.  The auditions took place at Hotel Radisson Blu and Amanora Town Center where 15 male and 15 female models were selected through online screening out of the 4673 entries that FOI had received. Based on the talent and country-wide voting, male and female contestants were selected for the final round. Famous Korean designer brand Heil and Indian Fashion store brand Central showcased their stunning fashion collection at the event.  
KMA is an affiliate of Ministry of Culture & Tourism, Republic of South Korea, and a non-profit organization established in 1976 for the purpose of promotion and protection of Models' rights & interest and related business. There are twenty five participating countries namely: Mongolia, Korea, Philippines, Malaysia, Myanmar, Indonesia, Kazakhstan, Uzbekistan, Kyrgyzstan, India, China, Hongkong, Thailand, Japan, Vietnam, Cambodia, Taiwan etc. KMA has been organizing this for the past 10 years. 
Badal Saboo Chairman, Face of India adds "It is unquestionably an immense joy to see top Indian models at this global stage. Through this pageant we have tried to help the imminent talent and hope India bags the title there!" This pageant has surely brought the best of opportunities for aspiring models from all over the country. Unlike other pageants this doesn't end for the winners here. They get to go meet different people from the same fraternity, experience their culture, their ways and get abundance of exposure. This is the second time that India is participating in the Asia New Star Model Contest, the largest and most prestigious platforms in Asia's fashion fraternity.
Mr. Vikram Kotnis, Managing Director, Amura Technologies adds "We are very excited to partner Face of India and this is the biggest social & digital reality event for models. It may well be the answer to the new age marketing problem of reaching out to the connected generation on a global scale at far less the cost of similar offline events with far more ROI and recall."
This event is ideal for digital & smart phone natives between 16 & 30 years and has been structured around a strong mobile, online, relevant content & social core using a mix of branding, lead generation, engagement in a new media ecosystem using innovations like app-based activation and live streaming.
The sponsors and partners who supported the event were Mantra Properties, Majestique Landmarks, Amanora Town Centre Mall, 91.1 Radio City , ISAS , Agents Jack Bar , Central , Diageo and Hotel Radisson Blu.
The event was witnessed by the city's crème audience along with the enthusiastic crowd at Amanora and the Korean families in the city came dressed in beautiful traditional Korean attire HANBOK to encourage the winners.
Vikram adds "We have reached out to millions of young viewers, participants and consumers over a period of 3 months using every channel and platform digitally. This will be the ideal platform for any relevant brand to partner and create a history in digital brand building in the coming years".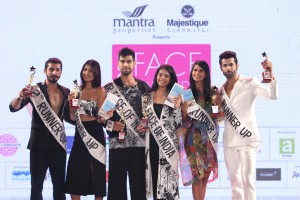 The entire fashion and glamour industry will now keep their eyes open for the Asia New Star Model Festival happening in the month of May in South Korea where it will be a festival of diversities that will have broadcasting stations from around Asia, top celebrities of each country, fashion and beauty shows from leading brands and top performances, at this most awaited extravagant festival of Asian countries.
Nivedita Saboo explained that "this is a perfect global platform for talent across the sectors of modeling, design, fashion, acting and music. It not only promotes global business but also gives India an opportunity to exchange Ideas with the relevant talent and movers and shakers from all across the world."
"It plays a role as the center hub to familiarize and span the perfection of Asian fashion and beauty industries to the whole world. It consists of various sophisticated shows such as each country's traditional clothing shows, fashion shows, hair shows and beauty shows on the stage. It's expected to open up new breakthroughs for them to grow as global brands" says Badal Saboo.‬