·         Shri. Kapil Patil, BJP MP, Bhiwandi Constituency Inaugurates 'Make in Bhiwandi'
·         Dignitaries from the industry join the forum
·         Inspired by Make in India, Bhiwandi region has taken several steps to boost the region.
·         Bhiwandi's leading industrial park Bhumi World welcomes the initiative.

Mumbai, February 9, 2016: Inspired by the 'Make in India', India's next generation industrial revolution, Maharashtra's third most industrialized region, Thane – Bhiwandi, has pioneered to translate the vision of Make in India into action and has taken numerous initiatives to support Industrial growth. Bhiwandi is ready to become country's manufacturing hub. Bhiwandi is a noted commercial hub that offers world class infrastructure, 24×7 power supply, good connectivity via road & railway transportation and subsidised industrial zones with excellent climate to suit manufacturing units.
Speaking on the occasion of the launch of 'Make in Bhiwandi', Mr. Kapil Patil, BJP MP said "The initiative aims at generating huge employment opportunities in the region besides boosting trade and economic growth. Keeping this in mind, today we are launching the 'Make in Bhiwandi' campaign to promote manufacturing at a macro level."
Present at the launch, Mr. Shailesh Rajput, Jt. Director of Industries, Konkan Region, District Industries Centre, Govt. of Maharashtra, Thane said, "Bhiwandi has seen remarkable development over the last decade. Manufacturers and Industrialists find it convenient to set up plants at Bhiwandi due to its proximity from all sides, Navi Mumbai, Thane, Borivali, in addition to easy access via the Nashik & Surat Highways. We have been working towards developing Bhiwandi as a suitable location for people to live, work, earn and settle down."
 
Mr. Amar Singh, Vice President, Torrent Power Limited said, "  Torrent Power has been distributing  24 x 7 power to Bhiwandi for over a decade. The distribution is being carried out one its kind public-private partnership. We have been successfully catering to the growing business and manufacturing needs at Bhiwandi."
Overwhelmed with the 'Make in Bhiwandi', Prakash Patel, Chairman and MD Bhumi World said, "We welcome the initiative and are very much thankful to Mr. Kapil Patil for making this a reality. Initiative like this shall boost the region and we extend our full support to the campaign. As a testimonial to the success of Bhiwandi, Bhumi World has setup a world class industrial park which is offering 40% subsidy from Govt. of Maharashtra and currently is catering to over 350 companies from 14 countries".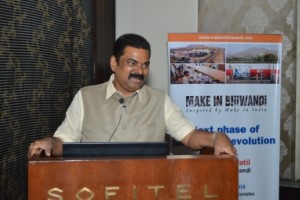 Under the Make in Bhiwandi campaign, local bodies along with private partners shall facilitate numerous programs to benefit the citizens with Professional training for skill development, empowering women with exposure to job oriented technologies and mentoring entrepreneurs with rightful decision making skills.