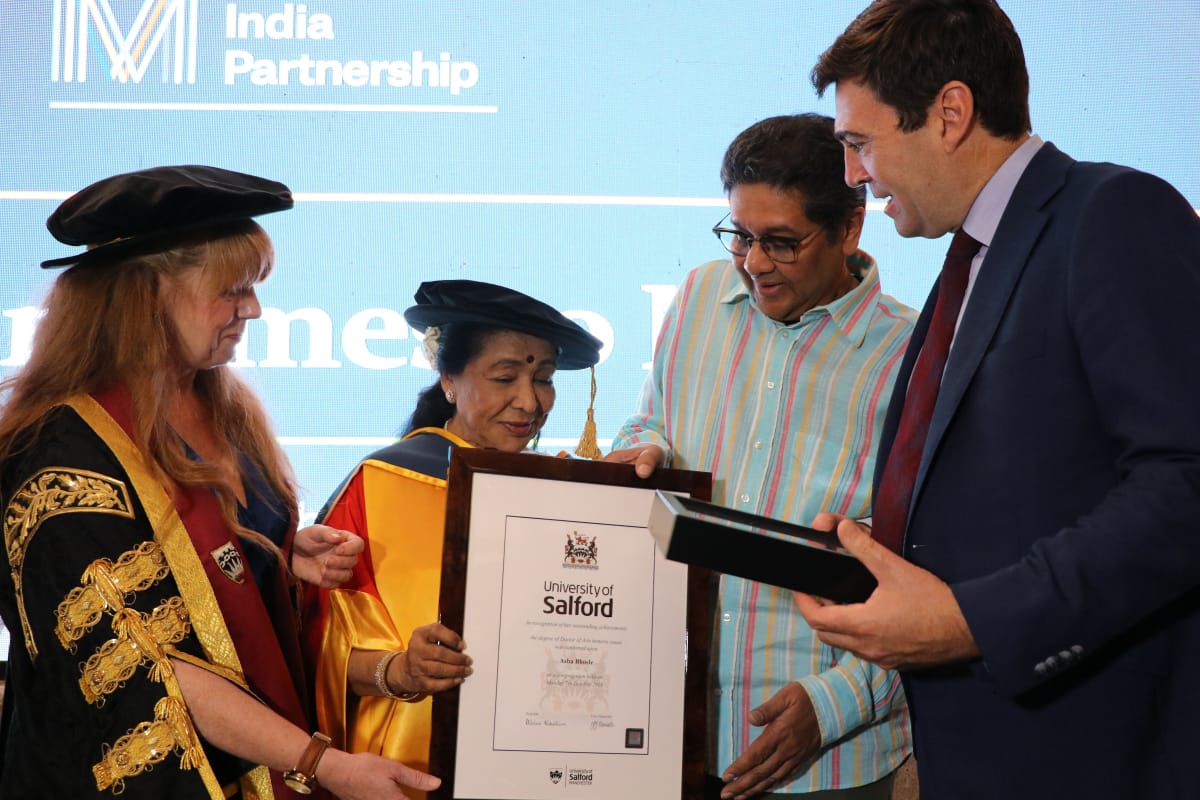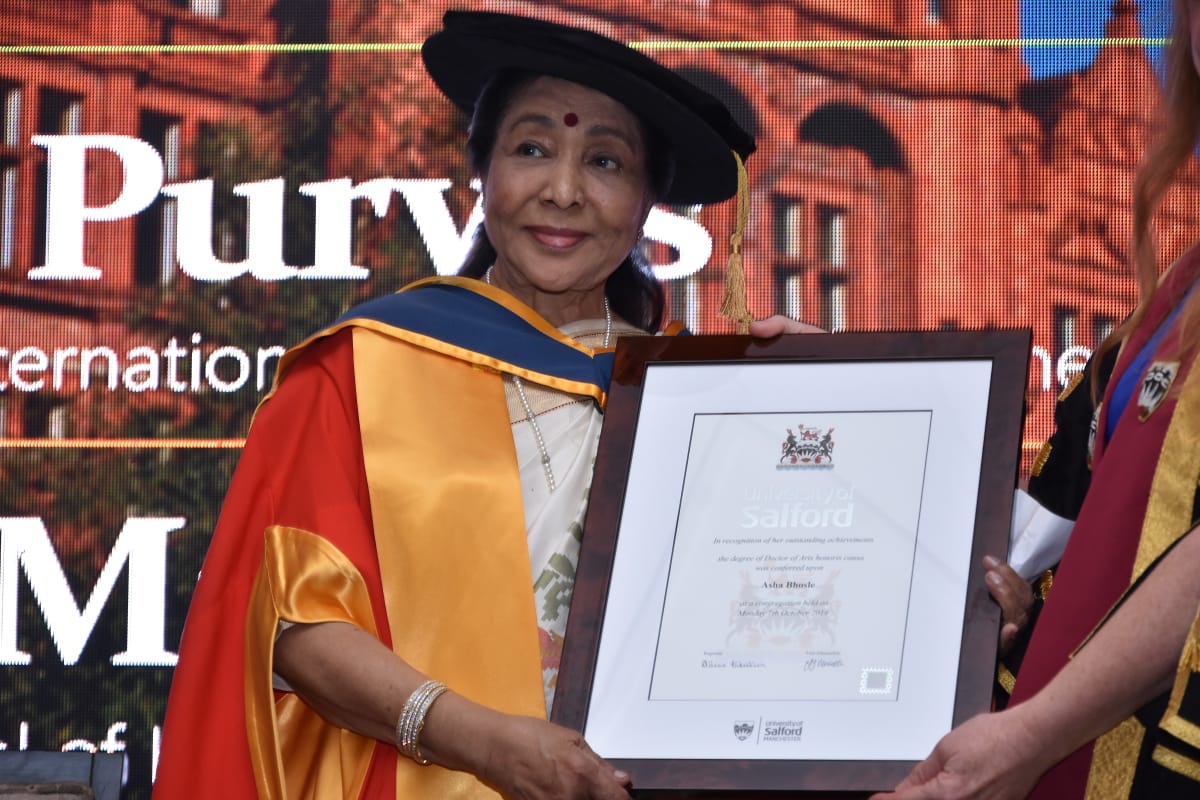 MUMBAI, 7th OCTOBER, 2019 (GPN) : The University of Salford has today (7th October) awarded the renowned Bollywood singer, Asha Bhosle with an Honorary Doctor of Arts Degree in recognition of her contribution to the field of music and her role in inspiring future generations to participate in arts and media.
Born in 1933 in Goar, a small village in Eastern India, Asha is widely recognised as one of Bollywood's most popular singers through her unique vocal range and a career that spans seven decades. Over the course of her career, Asha has sung in more than 20 languages and recorded more than 22,000 songs – making fame in the Guinness Book of Records in 2011.
Asha has also served as an inspiration for individuals pursuing popular Indian music through the popularity of the Bollywood films that she has featured in, providing an opportunity for British South Asians, in particular, to trace their cultural roots and celebrate their heritage. The impact of this was so profound that in 1997, British indie rock band Cornershop released the song 'A Brim Full of Asha' to celebrate Asha's musical achievements and her role as an inspiration to British-Asians.
Jo Purves, Pro Vice-Chancellor at the University of Salford presented the Honorary Doctorate to Asha Bhosle at a formal ceremony in the Saint Regis Hotel in Mumbai, India. Commenting on the award, Pro Vice-Chancellor Purves said: "Asha's achievements as a musician cannot be understated. Throughout her career, Asha has left a lasting impression in the industry by transforming traditional Hindustani music to inspire future generations across all nations to get involved in arts and the media. We're truly delighted to be honoring Asha for her accomplishments whilst celebrating her influence on modern British culture."
The University of Salford has a long history of supporting Indian culture and has sponsored the Asian Media Awards for many years to ensure the media fully represents the diversity, talent and creativity of the UK population.  The School of Arts and Media aims to inspire the next generation of stars across the sector, from journalists to film-makers, actors and performers and recognising Asha's illustrious career is testament to that.
The degree was awarded as part of a series of announcements made by a 30-strong delegation from Greater Manchester. The delegation was led by the Manchester India Partnership, which was set up in 2018 to celebrate and strengthen the ties between the UK and India in the fields of education, culture, trade, investment and tourism.
Continuing its investment in the region this week, the University of Salford will also be signing a memorandum of understanding with Karnataka State Higher Education Council in Bangalore on Wednesday (9th October). The agreement will look to promote collaboration between the UK and India at both institutions through activities such as the development of joint research projects, exchange programmes and driving international entrepreneurship. These activities span across subjects that are of critical importance to the future of industry, including smart cities, health and wellbeing, biosciences and advanced manufacturing and robotics.
Pro Vice-Chancellor Purves continued: "We're incredibly excited to be collaborating with Karnataka State Higher Education Council. By sharing our expertise in our specialist areas and creating opportunities for partnership, we can uncover unique insights into the industries that are rapidly transforming the way that we, and our students, will live our lives in the years ahead. "
Applications from India represent approximately 25% of the total number of international applications received by the University and to support students from India the University has an Indian Student Society, which organises cultural and social events for students and staff with an interest in India.  UK universities, such as Salford, are very suitable for students from India, who are career-focused and eager to develop new graduate skills. With the UK Government's announcement in September to introduce a new post-study work visa that will allow graduates to work after their studies for up to two years, the UK has become even more attractive and affordable.  The University of Salford is ideally placed to give Indian students the opportunity to develop those invaluable skills that employers want.  Ends