•SALMAN KHAN, RANVEER SINGH, AYUSHMANN KHURRANA, MADHURI DIXIT, KATRINA KAIF, VICKY KAUSHAL, SARA ALI KHAN & APARSHAKTI KHURRANA RULE THE STAGE
•#WIZCRAFT MAGIC LEAVES MUMBAI AUDIENCE SPELLBOUND
•The Homecoming of the mega celebration of Indian cinema, NEXA IIFA Awards 2019 brought the best of Bollywood on one stage with a Star-Studded Awards Show!
•Hosts: Ayushmann Khurrana and Aparshakti Khurrana
Performers: Salman Khan, Ranveer Singh, Vicky Kaushal, Madhuri Dixit, Katrina Kaif and Sara Ali Khan
Sara Ali Khan and Vicky Kaushal made their IIFA Debut At NEXA IIFA Awards 2019
•The biggest night of Indian cinema also presented THE IIFA 20 Years Special Honors to celebrate the Winner among Winners from across IIFA's 19 Glorious Year Old Journey
•NEXA IIFA AWARDS honored esteemed individuals, The Master Of Comedy, Syed Ishtiaq Ahmed Jafri, aka Jagdeep for his 'Outstanding Achievement in Indian Cinema' and The Master Of Dance And Choreography, Saroj Khan with the 'Outstanding Contribution to Indian Cinema'
•Bollywood's 'Dancing Queen' Madhuri Dixit mesmerized the audience with her breathtaking performance-tribute to the Legendary Bollywood Choreographer Saroj Khan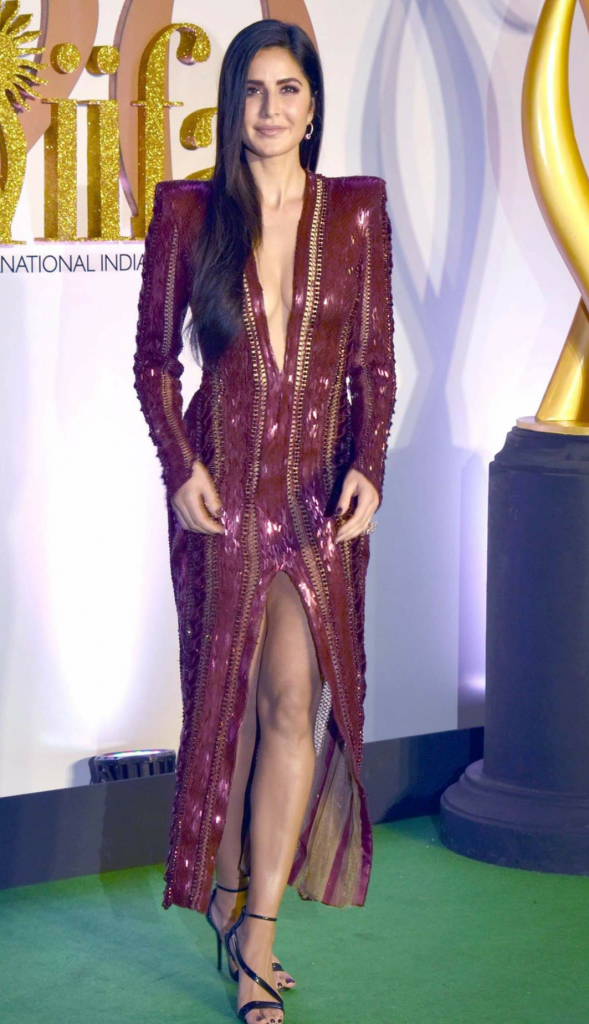 MUMBAI, 17th SEPTEMBER, 2019 (GPN): The highly anticipated homecoming of the mega celebration of Indian cinema, NEXA IIFA Awards 2019 brought the best of Bollywood with a Star-Studded Awards Show night. Marking the 20th glorious celebration of the spectacular IIFA journey, NEXA IIFA Awards 2019 took over the vibrant entertainment capital of the country, Mumbai with an unforgettable awards presentation, bringing together the biggest names of Bollywood in celebration of Indian Cinema.
The 20th Homecoming Edition of NEXA IIFA AWARDS stage saw Bollywood's stylish and talented sibling duo Ayushmann Khurrana and Aparshakti Khurrana host India's most awaited awards ceremony. The awesomely talented real-life sibling duo amazed the crowd present with their quick wit and zingers, leaving them in splits with their amusing one-liners and on-stage brotherly camaraderie.
Bringing the magic of Indian cinema back to where it all began, this year the spectacular NEXA IIFA Awards night witnessed unforgettable, nostalgia-filled moments of IIFA along with a host of stellar performances and acts by Bollywood's mega stars, Salman Khan, Ranveer Singh, Vicky Kaushal, Madhuri Dixit, Katrina Kaif and Sara Ali Khan. Bollywood's talented youth icons, Sara Ali Khan and Vicky Kaushal stole hearts with their electrifying debut performances at NEXA IIFA Awards 2019. Bollywood's 'Dancing Queen' Madhuri Dixit mesmerized the crowd with her breathtaking tribute to the Legendary Bollywood Choreographer Saroj Khan.
The grand finale of the power-packed NEXA IIFA Awards night witnessed the celebration of Indian cinema as the Winners in the Popular Category were presented with the coveted golden IIFA statuette.
A treat for cinema enthusiasts, the biggest night of Indian cinema also presented the IIFA 20 Years Special Honors to celebrate the Winner among Winners from across IIFA's glorious 20- year old journey.
NEXA IIFA AWARDS presentation ceremony also saw the felicitation of honored esteemed individuals who have made 'Outstanding' contributions to Indian cinema: The Master Of Dance And Choreography, Saroj Khan and The Master Of Comedy, Syed Ishtiaq Ahmed Jafri, aka Jagdeep, both of whom have had remarkable careers and have delivered phenomenal performances on the silver screen.
Rounding out the NEXA IIFA AWARDS 2019 11 Popular Categories winners:
Best Picture :
Best Direction :
Performance in a Leading Role |Female :
Performance in a Leading Role |Male) :
Performance in a Supporting Role |Female :
Performance in a Supporting Role | Male :
Music Direction :
Best Story :
Lyrics :
Playback Singer | Female :
Playback Singer |Male :
Shashank Srivastava, Executive Director, Marketing and Sales, Maruti Suzuki India said, "The automotive industry has moved beyond 'Retail Experiences'. It is about privileges now. From innovations to hospitality, the entire journey has become more evolved and indulgent. And NEXA's association with IIFA awards is a wonderful testament to that fact. We are happy to take our relationship with IIFA into its fifth year. We are inspired by the fact that our association brings us a step closer to our new age customers who seek global experiences in their everyday lives. NEXA is as much about innovative technology, as it is about global design and sophisticated style. In just four years we have touched a million hearts and the newest member to embody NEXA's values is the all new exclusive 6-seater, the XL6. This premium MPV is all set to charm you with its looks and charm you with its premium interiors, leaving you truly inspired."
Andre Timmins, Co-Founder-Director- Wizcraft International, said, "IIFA has always been at the forefront in promoting Indian cinema in various facets and has always endeavored to act in the best interest of the Indian Film Industry to build better avenues for community engagement, cultural exchange, business and trade, tourism and cinema ties. Since 2007, IIFA has been advocating the environmental agenda having launched the concept of 'greening the IIFA's' with bright green carpets instead of traditional red ones to planting trees, to partnering with United Nations and multiple charity organizations to make a difference to our home, our world. We are thankful for the industry who has helped and supported us during our 20 year old journey that has made IIFA a global phenomenon. And for our homecoming edition we celebrate another successful year for IIFA and Indian cinema we are sure that it will be Magical memorable experience for all."
Yogesh Jain, Director at Woosh Washing Expert, says, "We take immense pleasure and pride in announcing our partnership with IIFA for the 3rd consecutive year as a Cause Partner supporting the cause of "Barabari Ghar Se Shuru – Equality Begins At Home".
For the fifth consecutive year, the IIFAs will be broadcast on India's No.1 premium Hindi entertainment platform, Colors and Colors Cineplex with a stunning line-up of star-studded programming comprising NEXA IIFA AWARDS, IIFA Rocks and Rewind episodes comprising magical moments from the IIFA Treasure troves.
Nina Elavia Jaipuria – Head, Hindi Mass Entertainment and Kids TV Network, Viacom18 , "We at COLORS are delighted to strengthen our stellar partnership with IIFA as the prestigious award franchise completes two decades of celebrating cinematic excellence. IIFA celebrates and commemorates creative talent of our film fraternity and resonates with our vision at COLORS. Viewers of COLORS and COLORS Cineplex will be enthralled to witness their favorite artists perform on the grand stage of IIFA Rocks which comes back home to Mumbai this year."
Puneet Das, VP Marketing – Tea (India), Tata Global Beverages Ltd, said "Tata Tea Gold is proud to associate with IIFA as a brand partner on their 20th Anniversary as it is being hosted for the first time ever in India in the home of Hindi Cinema. IIFA is synonymous with Indian cinema and over the years has stood for the 'Gold standard' of celebrating Indian Cinematic achievements. Likewise, Tata Tea Gold stands for a 'Gold standard' in tea drinking experience with its rich taste and an irresistible aroma. Tata Tea Gold #DilKiSuno campaign invites consumers to buy a pack of Tata Tea Gold and win a chance to attend the exciting IIFA2019 awards event in person. This is a perfect opportunity for our consumers to witness the glitz and glamour and watch their favourite stars up, close and personal…. and we already seeing this excitement in the overwhelming responses we have been receiving so far. We wish IIFA a very happy 20th anniversary and many more to come."
IIFA continues to embark on its journey to be the pioneers in the world of entertainment as a global phenomenon to create positive impact across the globe. This year is set to be the most extravagant and astonishing IIFA till date. IIFA is dedicated to building bridges across cinemas, businesses, communities and nations, creating everyone's dream: "One People. One World".
THE PRINCIPAL PARTNERS AND SPONSORS OF THE HOMECOMING EDITION OF NEXA IIFA AWARDS 2019 ARE:
Title Sponsor Awards – NEXA
Cause Partner – Woosh Washing Expert
Brand Partners – Tata Tea Gold & Maanyavar
Broadcast Partners – Colors and Colors Cineplex
Global Digital Partner – Facebook
Ethical Beauty Partner – The Body Shop
Travel Partner – Ease My Trip
Environment Partner – UN Environment
Social Cause Partner- Rally for Rivers Cauvery Calling
Media Partners – Republic TV, PVR Cinemas, Bright Outdoor, Red FM 93.5, ITV Network, J. R. Creations, Khushi Advertising, Namrata Advertising, Orienta Cine Advertising, Navbharat, Central Chronicle, Super Cinema, Magic 106.4
Hair & Make-up Partner – MakeUp Designory India
PR Partner – WizSpk Communications |PR
Ticketing Partner – BookMyShow
Invitation Partner – Ravish Kapoor Innovative Invitations
Music Partner – T-Series
Support Partner- IPRS, PPL, ISRA, NOVEX
Alcohol Partner – Beam Suntory Teachers Glasses, Kingfisher Ultra, Campari India, Red Bull
Venue Partner – DOME, NSCI SVP Stadium
Keep up to date with all the latest news and details on IIFA by logging on to www.iifa.com or checking out the social media handles:
Facebook – https://www.facebook.com/IIFA/
Twitter – https://twitter.com/IIFA
Instagram – https://www.instagram.com/iifa/
About IIFA (International Indian Film Academy)
Conceptualized and produced by Wizcraft International and supported by the key members of the Indian film fraternity, IIFA is the most appreciated South Asian film academy and a global platform that gives the Indian film fraternity an opportunity to reach audiences in international territories. The alliances made via the platform of IIFA provide huge benefits and gain to India and an equally important objective is to create similar benefits in the host countries. The aim is to establish a system of mutual benefit to both India as well as the host destinations by boosting tourism, economic development, trade, culture, cross-border investments and film co-productions. IIFA believes in the dream: One People, One World.
Wizcraft International promotes the IIFA Weekend & Awards globally each year and travel to new, exciting and beautiful destinations, taking the film fraternity to unite and celebrate the best of Indian film and culture, thereby taking Indian Cinema and India to a wider audience. www.iifa.com
About Wizcraft International Entertainment
Wizcraft International Entertainment, India's leading media and live entertainment company is dedicated to showcasing its expertise on the world stage. Having conceptualized some of the grandest events globally including the 50 Years of Indian Independence, the 30 Years of Mauritian Independence, the 10 years of the South African Freedom Struggle, the Commonwealth Games Opening and Closing ceremonies in Delhi as well as the Handover ceremony of the Commonwealth Games in Melbourne, & the prestigious International Indian Film Academy (IIFA) Awards & Weekend for 19 years across the world, Wizcraft has contributed towards brand building for India in global destinations. It has pioneered and developed India's biggest entertainment brand IIFA which has taken Indian Cinema and culture to the world. The growth story of the company reflects the evolution of the Indian event management & entertainment industry itself. Driven by its vision "Believe in the power of dreams" the company is committed to quality and innovation, while setting its sights on greater peaks of achievement.
www.wizcraftworld.com
Bollywood actors Richa Chadda, Katrina Kaif,  Radhika Apte, Vicky
Kaushal, Ali Fazal, Kabir Bedi, Arjun Rampal, Singers Neha Kakkar,
Tulshi Kumar and Tennis Player Leander Paes  at green carpet of 20th
IIFA Awards 2019 at NSDC DOME , Worli on Monday evening in Mumbai – Photo By Sachin Murdeshwar