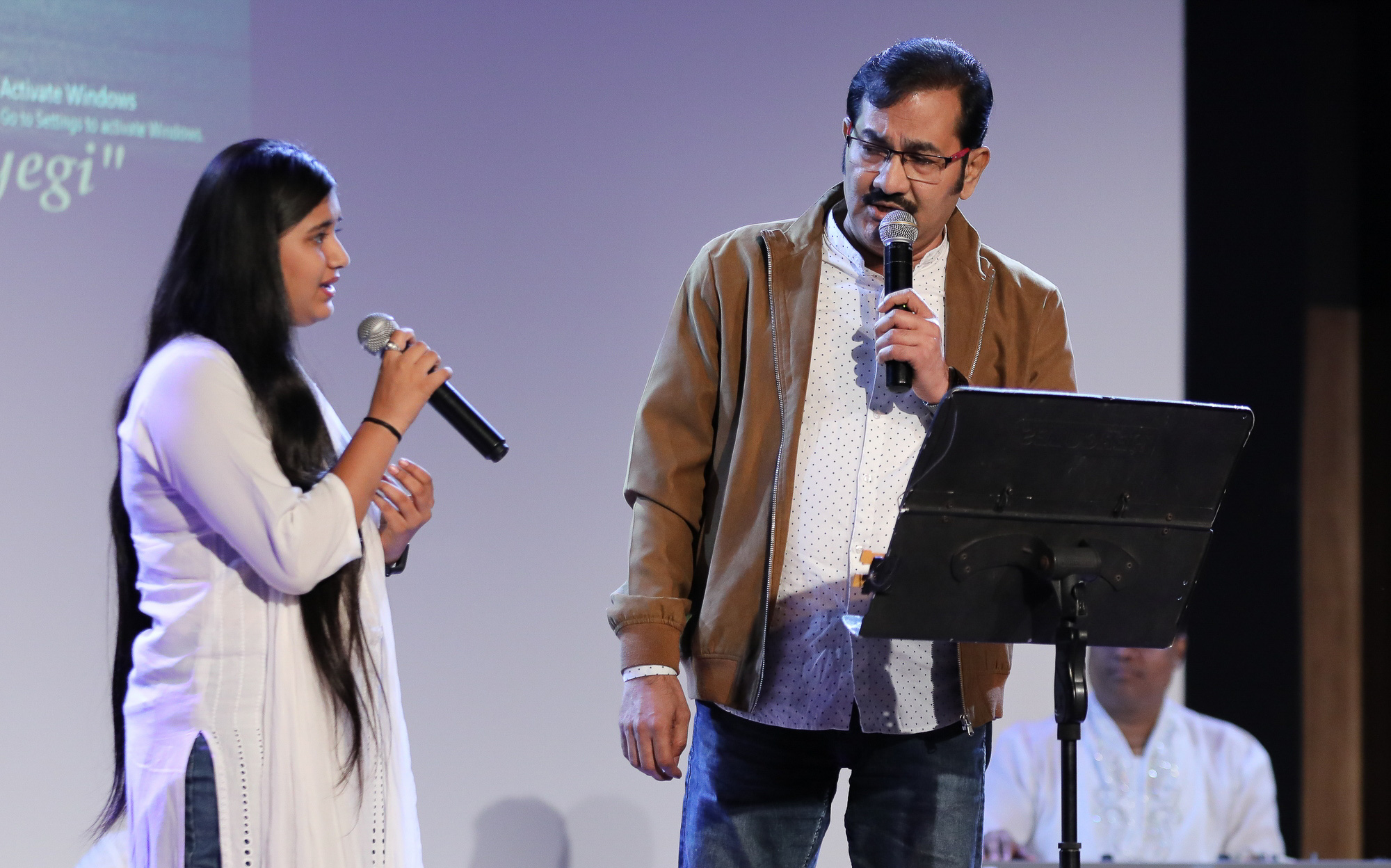 Performance- Talat Aziz, Alka Yagnik, Abhijeet Bhattacharya, Suresh Wadkar, Sonu Nigam , Salim Merchant, Nitin Mukesh, Sudesh Bhosle, Sanjeevani Bhelande, Pratibha Baghel etc
Present were -TAnandji (Kalyanji -Anandji ), lTochi  Raina, Vasuda Sharma, Ramprasad Sharma (of Laxmikant–Pyarelal), Anand Shrivastav (of Anand–Milind), Jasbir Jassi ,Dj Shiezwood ,Ameen Sayani ,Bina Aziz ,Smita Thackeray _ & Many more 
Spearheaded by Sanjay Tandon of ISRA.by Indian Singers Rights Association
23rd August, 2019 in Mumbai (GPN) – Remembering Khayyam! National Award winner & Veteran music composer Mohammed Zahur "Khayyam" Hashmi, better known to the world as Khayyam, passed away on August 19, 2019, due to age-related illness.

The 93-year-old music maestro has left behind a void that will never be fulfilled in the coming years. His music, soaked in the spirit of rich classical allure, represents the sort of melody unthinkable in Bollywood mainstream nowadays. He was one of the last bastions of an era of Hindi film music that has all but ended—one that was defined by inherently Indian melody, celebrating the sounds and culture of the soil.
Padma Bhushan Khayyam was known for his work in movies like Footpath, Phir Subah Hogi, Kabhi Kabhie and Umrao Jaan, Khayaam gave the Indian cinema some of its best compositions.
Declared as one of the greatest Bollywood Music Directors of all time, Khayyam Saab has triumphed upon the hearts of millions with his unique style of music. He has carved his name on prestigious awards like: Best Music Director of the Millennium- Govt. of Punjab, Filmfare Lifetime Achievement Award, Madhya Pradesh State Award, Ashok Award- Govt. of Punjab, BFJA's Best Music Director Award, UPFJA's Best Music of Quarter Century Award, K.L Saigal Award by Javitri Vikas Samiti, Sangeet Natak Award Academy, Govt. of Maharashtra Award, Deenanath Mangeshkar Award, CINTAA Award, IMPPA Award, Urdu Marakaz Mumbai Award, Shri Yash Laxmi Art Pune, Award, Awami Haridas Award, Bhagwati Saraswati Puraskar, Talkie 75 Scroll of Honour, MAMI Award, Naushad Sangeet Kendra Samman, Cinegoer Association Award, Asha Bhosle Puraskar, to name a few.
Choosing a favourite from his songs is a difficult proposition, but who can ever forget the pious yearning of 'Zindagi jab bhi' from Umrao Jaan  "Woh Subah Kabhi To Aayegi", the heart wrenching "Jaane Kya Dhoondhti Rehti Hain Ye Aankhen", the cry of "Bujha Diye Hain Khud Apne Haathon", the romantic tease of "Thehriye Hosh Mein Aa Lun" or the love ballad of "Kahin Ek Masoom Nazuk Si Ladki"?
Naming few more: Phir Subha Hogi (1958), Shagoon (1964),Aakhri Khat (1966), Kabhie Kabhie (1976), Trishul (1978),Thodisi Bewafaii (1980), Umrao Jaan (1981), Dard (1981),Ahista Ahista (1981), Bazaar (1982)
No wonder connoisseurs hold Khayyam Saab in high esteem for his immaculate standards of musical harmony, as his creativity symbolises Victor Hugo's irrefutable belief that "music expresses that which cannot be put into words and that which cannot remain silent".
Talat Aziz says "He was like a father to me. The Indian Music Industry has never witnessed a gem like him. I am honored to be a part of this evening as everyone knows that he was the first one to introduce me to the world of film music in the classic Umrao Jaan. His adherence to classicism made Khayyam sahab an exception"
Sanjay Tandon of ISRA said "Khayyam sahab's music will live on, not kabhi kabhie, but eternally, thanks to its stillness that defied trends" ENDS