Trinity Group in association with Prittle Prattle is organizing the 5th edition of the 3D printing world conference and 3D printing world award 2019.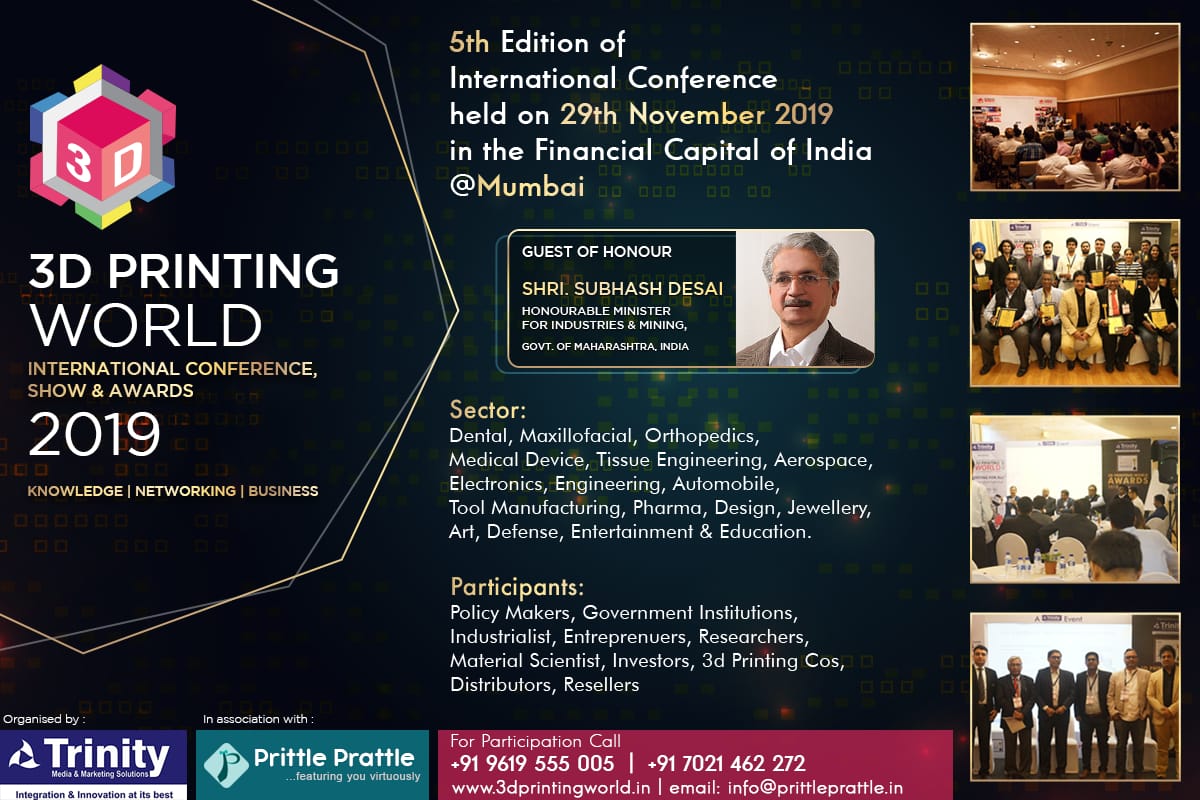 24th AUGUST 2019, Mumbai (GPN): 3D Printing is a technology of the future. Almost all the industries will be benefiting from it. Medical, Aerospace, Defence, Dental, Maxillofacial, Orthopaedics, Prosthetics, Medical Devices, Pharma, Tissue Engineering, Automobile, Tools, Engineering, Electronics, Design, Architecture, Construction, Packaging, FMCG, Oil & Gas, Art, Entertainment, Fashion, Jewellery, Education and many more as we progress to more research and development.
For the young aspirants, this is the right time for the New Age India with a youth dominated population directed to them to make India an indigenous hub of manufacturing through MAKE IN INDIA and STARTUP INDIA initiative to manufacture and create their own start up's investing in smart technologies of the future.  And with the current trends, AI, Blockchain, AR, VR, IoT & 3D printing has a great future prospect and will disrupt every industry.
Trinity Group in association with Prittle Prattle is organizing the 5th edition of the 3D printing world conference and 3D printing world award 2019. Shri. Subhash Desai, Minister for Industries & Mining, Government of Maharashtra, India, Dr. Ravi M, Senior Principal Scientist, CSIR, Ministry of Science & Technology, Govt of India, Dr. Mansing Pawar, President, 3D Printing Education & Research Association, Dr. John Nesan, MD, CTARS, Maxillofacial Surgeon and Ar. Roshan Cherri, Leadership Director, Ministry of Infrastructure & Construction, Qatar, Business Ambassador Hawaii, USA would be attending the event.  3D printing world conference is a platform on knowledge, networking, and business across sectors and industries. "3D Printing World Show 2019 is a platform promoting new innovations, 3D printing technology, latest machines, 3D software, and materials," says Dr. Shibu John, Founder, Trinity Media & Secretary-General, Founder, 3D Printing Education & Research Association.
3D Printing World Awards is a platform recognizing excellence in 3D printing across sectors and specialization. It is a great opportunity to acknowledge the effort made by the initiators. "It is the first and the only awards platform for 3D printing in India. The event will be taking place on 29th November 2019 at the financial capital of India, Mumbai," confirms Ms. Smruti Alinje Bhalerao who is the founder of Prittle Prattle PR Company.
Many dignitaries and the elite member will be attending the event. The participants in the event will be highly classified Policy Makers, Government Institutions, Industrialist, Entrepreneurs, Researchers, Material Scientist, Investors, 3d Printing Cos, Distributors, Resellers and many others. There will be various industries that would be covered in these events like Dental, Maxillofacial, Orthopaedics, Medical devices, tissue engineering, Aerospace, Electronics, Automobile, Engineering, Design, Tools, oil, and gas, Packaging, FMCG, Jewellery, Defence, Art, Entertainment and Education.
Trinity media and marketing solutions have been inclined to 3D printing, Artificial Intelligence, and Blockchain technology to then create many platforms for dissemination and knowledge sharing to benefits from the potential of this technology. Trinity Media & Marketing Solutions (TMMS) is a Media &Marketing company as a consortium started in the year 2013 offering consultancy, Affiliate Marketing services, Media solutions, IP's, Publications, events, concepts, training programs related to motivational development of stress management for schools & corporates. They are registered with MSME and is a CRISIL rated agency. They identify new emerging technologies to proliferate it to a large audience through various media platforms designed through our expertise. We also promote Contractual Sales & Promotions for tangible/intangible (concepts) products, New technologies, PR, Media tie-ups, B2B/ B2C Exhibitions, Conferences, Digital media and Intellectual Property formulation.
Prittle Prattle is the leading PR company based in Mumbai and functioning PAN India. They have mastered their skills in all kind of media. They are skilled in developing path-breaking and pioneering strategies that offer an integrated approach to manage brand equity by providing services like PR, Social media activities. They develop tailor-made communication campaigns which allow the companies to shape and maintain their identities in the public eye, ranging from traditional advertising to social media outreach.  They have been creating brand images for the best in the industry.
3D printing or additive manufacturing is a process of making three dimensional solid objects from a digital file. It enables to produce complex shapes using less material than traditional manufacturing methods. It has a lot of benefits like faster production, cost-effectiveness, can implement assorted raw materials. It has the potential to democratize the production of goods, from food to medical supplies, to great coral reefs. 3D printing will soon be making their way business, disaster sites and even outer space.