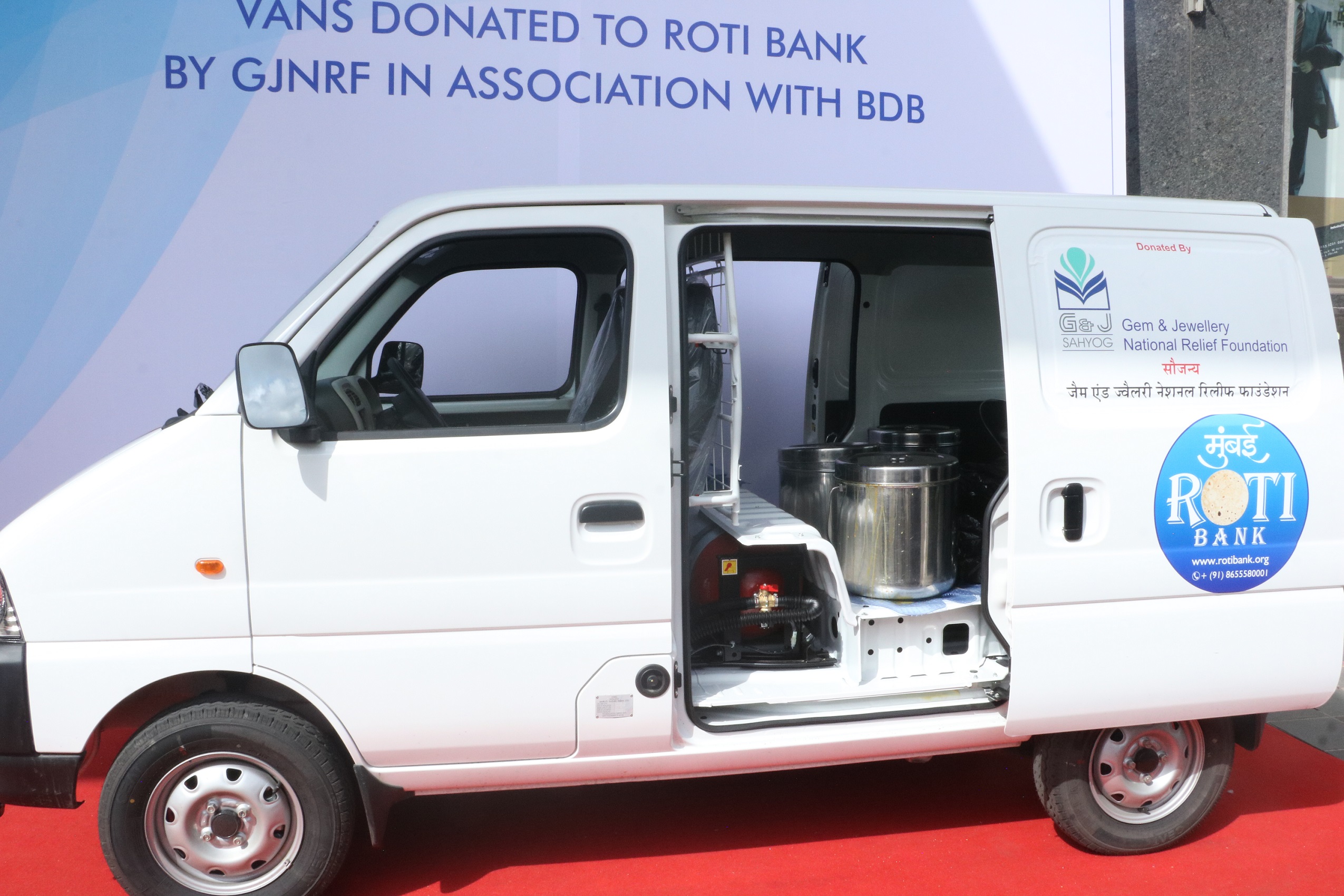 MUMBAI, 20 AUGUST, 2019 (GPN): Today, Gems and Jewellery National Relief Foundation (GJNRF)  and   Bharat Diamond Bourse (BDB)   donated 2 vans to Roti Bank, one of Mumbai's largest non-profit organisation which bridges the gap between hunger and excess food.
Shri D Sivanandhan, former Commissioner of Police, Mumbai, now Mentor at Roti Bank graced the occasion and addressed the gathering about the Roti Bank. He informed that just in over 18 months since Roti Bank was started in Mumbai, Roti Bank feeds over 3000 people across the Mumbai city, today each day.
He informed that Roti Bank currently has a fleet of 7 vans, which picks excess food from weddings, cafeteria's housing societies and delivers to thousands of hungry people who lives in slums or on footpath. Roti Bank also delivers food at daily kids meals at Drona Foundation, Dharavi and also to relatives of cancer patients at Tata Memorial Hospital and also relatives of patients at KEM hospital. Mr Sivanandhan stressed that Roti Bank always collect fresh food and as a policy do not collect overnight or leftover food. With the addition of 2 vans donated by BDB and GJNRF, the fleet count of Roti Bank will go upto total 9 vans.
One behalf of GJNRF, Mr Sanjay Kothari, Chairman, GJNRF and Past Chairman ofThe Gem and Jewellery Export Promotion Council (GJEPC) said, "We are obliged to do a small bit on behalf of the gems and jewellery fraternity. We acknowledge the work done by Shri D Sivanandhan who is thriving to make our city free from food hunger and make food available to the poor and needy people. One this occasion let me also assure that BDB with the help of Roti Bank will offer one day meal for free to all the needy people in Mumbai. "ENDS