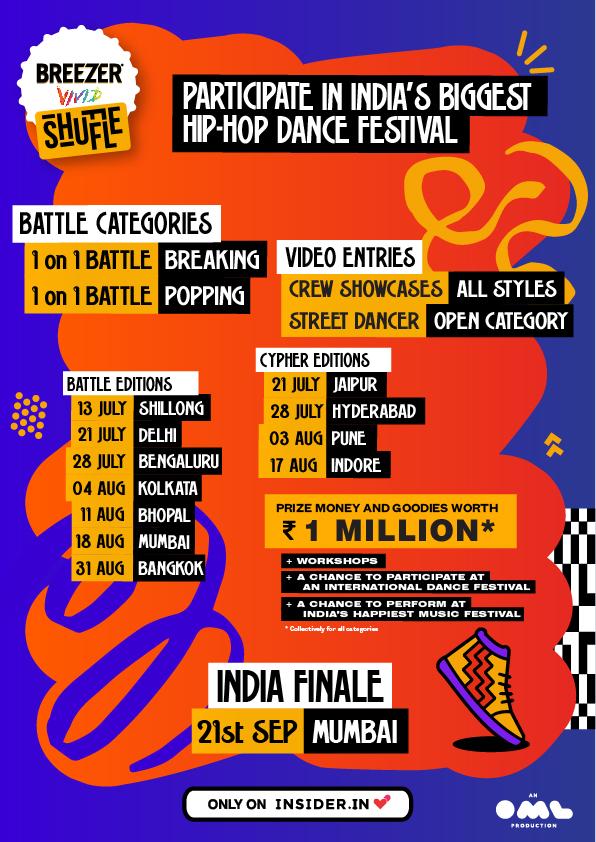 THE BATTLE TO CROWN THE NEW QUEENS/KINGS OF DANCE BEGINS
Mumbai, 14 August 2019 (GPN): It's that time of the year again when hip-hop takes centre stage! India's largest hip-hop dance music festival, Breezer Vivid Shuffle is back. A much-needed platform for the burgeoning hip-hop talent in India to break out, Breezer Vivid Shuffle has been conceptualized by Only Much Louder (OML), one of the country's biggest content creators and talent management firms and offers India's largest cash prize pool (up to ₹1million) for a hip-hop dance festival. The current edition has roped in Varun Dhawan and Melvin Louis as the face of Breezer Vivid Shuffle season 3.
After two successful editions that have received massive participation from dance enthusiasts the coveted event gets bigger and better.  With 6 regional rounds, 1 international round and 4 additional cypher editions you too can win big and be crowned the next B-boying King or be  the Popping Prince!
You can be a part of  the third edition of the Breezer Vivid Shuffle by simply logging on tohttps://breezervividshuffle.in/ and registering yourself under various categories. Crowd pulling Breakers and Poppers can battle it out at the regional rounds. The Crew Showcase category gives you a chance to upload your performance video on Insider.in and stand a chance to be a part of the finale. Dance your heart out in any form or style on the beats of hip hop or rock in the Street dancer challenge and upload your video on Instagram. The best representation of "Live life in color" through this dance form gets a chance to be a part of the finale. After popping and b-boying your heart out at India's biggest hip-hop dance festival, contestants get a chance to be a part of the craziest afterparties that you have ever seen!
The excitement does not end here. The best in the biz are gonna be in your hood. BVS is conducting special workshops where you can learn from the biggest names in street dance, there will also be special workshops that will be conducted by the gods of groove like Melvin Louis, Sagar  Bora and Himanshu Dulani. If you've got the moves, you can take it up a notch and enroll for amounts from Rs. 349 to Rs. 999.
REGION
CITIES
DATE
WORKSHOP
REGIONAL ROUNDS
AFTER PARTY
NORTH
DELHI
Saturday, July 20,
WORKSHOP

Melvin Louis + Bboy Never Mind

(Imperial Fernando Ballet Company, Saket)

N/A
N/A
NORTH
DELHI
Sunday, July 21,
N/A
Breaking – Jo Bboy Never Mind Rohn

Popping – Aastik Dope V Funkey

DJ Kaa Jay DJ Puppeteer MC Deepak

(Breaking venue – Imperial Fernando Ballet Company, Saket)

(Popping Venue – Flyp Cafe, CP)

Naezy     KR$NA + Guests    Sumit Roy

(Flyp Cafe)

NORTH
JAIPUR
Sunday, July 21,
N/A
Gully Gang Showcase ft. D'Evil + Frenzzy (Aavrutti) + JD                 Enkore   Sound Avtar

(Playboy)

SOUTH
BANGALORE
Saturday, July 27,
WORKSHOP

Burst + Bolt

(Fandom)

SOUTH
HYDERABAD
Saturday, July 27,
WORKSHOP

Ex-T + Dope V

(Prism – Club & Kitchen)

N/A
N/A
SOUTH
BANGALORE
Sunday, July 28,
Breaking – Godhand Rohn Burst

Popping – Funkey Dope V Bolt

DJ Cosmic/Ivan DJ Valley MC Beep

(Fandom)

TBC

Fandom

SOUTH
HYDERABAD
Sunday, July 28,
WORKSHOP

Melvin Louis

(Prism – Club & Kitchen)

N/A
Naezy     Shah Rule + DJ Proof Madstarbase

(PRISM)

EAST
KOLKATA
Saturday, August 3,
WORKSHOP

Melvin Louis + Godhand + Dope V

(Mamata Shankar Dance Academy)

N/A
Gully Gang Showcase ft. Shah Rule + Saifan (Aavrutti) + JD      Khasi Bloodz    Rapper Big Deal

(Refinery 091)

EAST
KOLKATA
Sunday, August 4,
N/A
Breaking – Godhand Bboy Never Mind Burst

Popping – Aastik Dope V Bolt

DJ Cosmic DJ Valley Funkey

(Refinery 091)

WEST
PUNE
Saturday, August 3,
WORKSHOP

Himanshu Dulani

(Venue TBC)

Naezy Paper Queen Enkore

Venue (TBC)

CENTRAL
BHOPAL
Saturday, August 10,
WORKSHOP

Himanshu Dulani Burst Bolt

(Nrityam Dance Studio)

N/A
N/A
CENTRAL
BHOPAL
Sunday, August 11,
N/A
Breaking – Rohn Burst Bboy Never Mind

Popping – Dope V Funkey Bolt

DJ Cosmic DJ Valley Nishit

(Pitchers Club & Lounge)

Gully Gang Showcase ft. D'Evil + Sledge (Aavrutti) + JD DJ SA + TBC artist

(Pitchers Club & Lounge)

CENTRAL
INDORE
Saturday, August 17,
WORKSHOP

Melvin Louis

(Best Western Plus O2 – Banquet Hall)

Gully Gang Showcase ft. Shah Rule + Sammohit (Aavrutti) + DJ Proof

(O2 the lounge)

WEST
MUMBAI
Saturday, August 17,
WORKSHOP

(Venue TBC)

N/A
WEST
MUMBAI
Sunday, August 18,
Breaking – Godhand Burst Jo

Popping – Aastik Funkey Bolt

DJ Cosmic DJ Puppeteer Nishit

(Kent Star, Andheri)

TBC artist

Raasta

Int'l
BANGKOK
Saturday, August 31,
TBC
Venue (TBC)
WEST
MUMBAI
Friday, September 20,
WORKSHOP

International judges + Melvin Louis

(Bhaktivedanta Swami Mission School – Andheri)

N/A
WEST
MUMBAI
Saturday, September 21,
Famous studios (Main show)