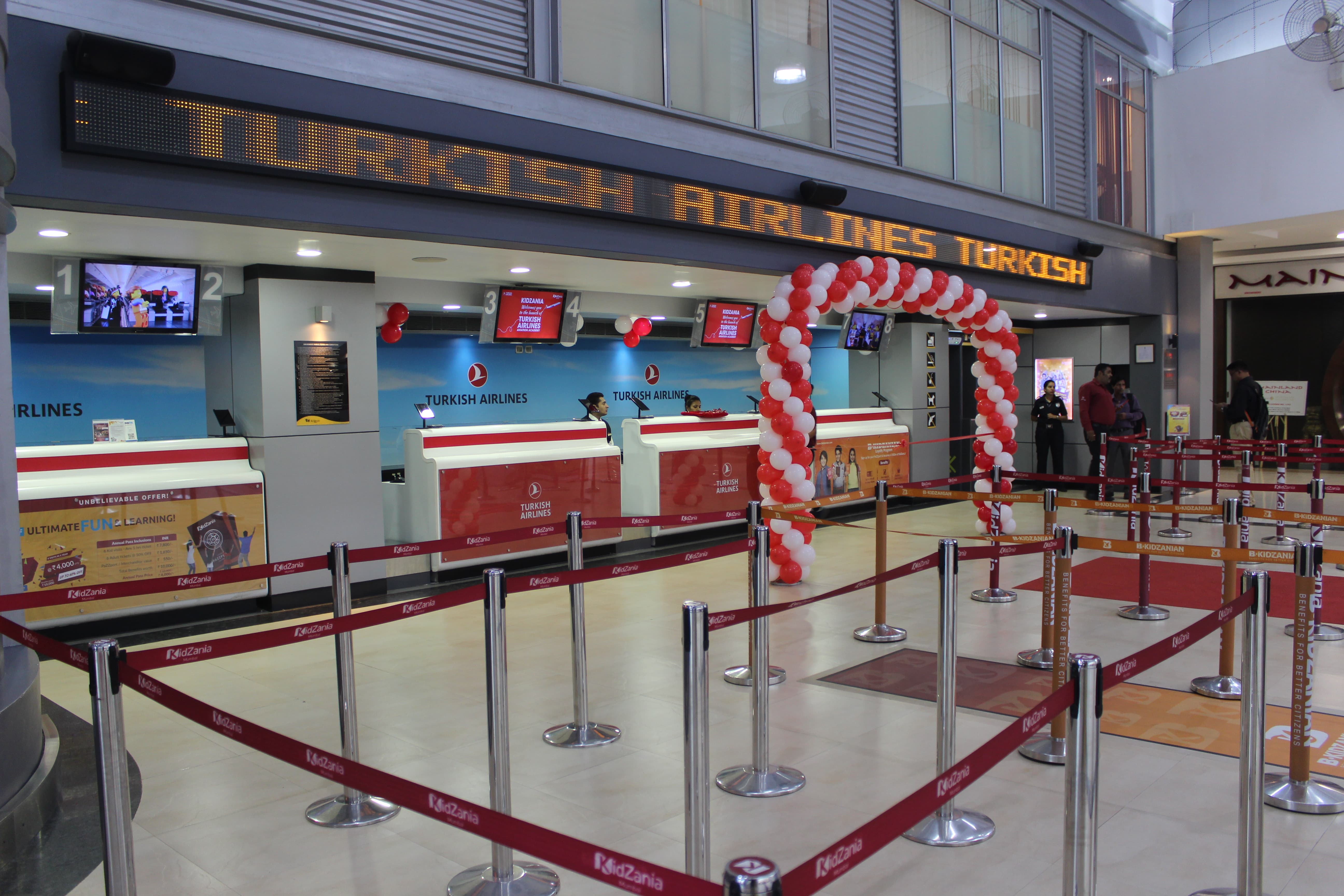 India, August 8, 2019 (GPN) :  Turkish Airlines and KidZania India, the global edutainment theme park, have come together to announce a partnership for the Kidzania Aviation Academy at their Indian theme parks in Mumbai & Delhi NCR This is the first time that any airline in India has built an establishment in KidZania to stimulate fun learning about the aviation industry among kids. This one of its kind association is also present in Kidzania Istanbul, where the aviation academy is supported by Turkish Airlines.
This strategic partnership between Turkish Airlines and KidZania India is another effort by Turkish Airlines to curate a delightfully different experience for its younger passengers and increase their footprint in India.
KidZania is an indoor theme park built like a city that recreates adult workplaces so that children aged 4-16 years old can role-play carrying out jobs. With over 27 locations worldwide, this park aims to entertain and educate simultaneously where children can experience numerous professions.
Commenting on this association,  Tuncay Eminoglu, Vice President, Asia and Far East, Turkish Airlines said "We have always taken care of our younger passengers' needs through creative methods like introducing eco-friendly toys on flight and providing a vast range of in-flight entertainment options to make their flight experience enjoyable. With this partnership with Kidzania, we wish to incline the younger generation towards building a career in the aviation industry and get introduced to these professions in a better way."
Mandar Natekar, Chief Business Officer at KidZania India, said, "We have always aimed to empower children by providing them with opportunities to explore the world of work through creative role-play. Our partnership with Turkish Airlines emphasizes our strategic approach to do this with industry leaders who also believe in the same core values as we do. With this partnership, we will be able to provide our visitors an enhanced customer experience and some real insight into the aviation industry with the hopes to inspire a future generation of industry professionals."
At the Turkish Airlines Aviation Academy, kids can role-play as aspiring Turkish Airlines' "pilots" to understand the sequence of tasks a pilot completes before, during and after each flight. Kids can also role-play as Turkish Airlines' "cabin crew", learning how to ensure the safety and comfort of their passengers onboard: from conducting a smooth meal service to demonstrating those famous safety instructions which children have always dreamt of. In addition, the Turkish Airlines Crew will also welcome visitors at the Airport. All kids will receive the Turkish Airlines Boarding Pass from the Airport Ticket Counter which is the start of their journey into KidZania.
Turkish Airlines, Inc.About Turkish Airlines:
Established in 1933 with a fleet of five aircraft, Star Alliance member Turkish Airlines has a fleet of 341 (passenger and cargo) aircraft flying to 313 worldwide destinations as 263 international and 50 domestic, in 125 countries. More information about Turkish Airlines can be found on its official website www.turkishairlines.com or its social media accounts on Facebook, Twitter, YouTube,LinkedIn, and Instagram.
About Star Alliance:
The Star Alliance network was established in 1997 as the first truly global airline alliance to offer worldwide reach, recognition and seamless service to the international traveller. Its acceptance by the market has been recognized by numerous awards, including the Air Transport World Market Leadership Award and Best Airline Alliance by both Business Traveller Magazine and Skytrax. The member airlines are: Adria Airways, Aegean Airlines, Air Canada, Air China, Air India, Air New Zealand, ANA, Asiana Airlines, Austrian, Avianca, Avianca Brasil, Brussels Airlines, Copa Airlines, Croatia Airlines, EGYPTAIR, Ethiopian Airlines, EVA Air, LOT Polish Airlines, Lufthansa, Scandinavian Airlines, Shenzhen Airlines, Singapore Airlines, South African Airways, SWISS, TAP Air Portugal, THAI, Turkish Airlines and United. Overall, the Star Alliance network currently offers more than 19,000 daily flights to over 1,300 airports in 194 countries. Further connecting flights are offered by Star Alliance Connecting Partner, Juneyao Airlines.
About KidZania India:
KidZania is an interactive family entertainment & learning center that empowers, inspires & educates through real-life role-playing activities. KidZania is a unique combination of entertainment and an immersive media platform for brands to connect with Children and Adults, with a strong focus on giving back to society and better the community and environment.
Built like a city, it is complete with paved roads, battery operated vehicles, buildings, a functioning economy & its own currency. By blending reality with entertainment, it provides an authentic and powerful developmental platform where kids can discover, explore and learn about the real world.
The realism of the role-play helps children learn about different careers, work, economy and how to manage money. Each activity experience is designed by Educationalists, Play Experts & Child Physiologists to aid and boost different behavioral skills and values in a child.
KidZania represents industries present in the real world like private services, public services, entertainment, airline, automobile, retail, restaurants, and factories where children can play the role of a Pilot, Surgeon, Detective, Chef, Engineer, TV Producer, Radio Jockey & much more from over 100 role-playing activities.
'Industry Partners' augment the role-playing experiences by enriching and creating an authentic, immersive and interactive brand experience, unmatched by any other location-based entertainment property. For Brands, KidZania serves as a sustainable engagement platform where brands get product exposure, brand exposure and immersive experience through branded role-plays.
KidZania is globally present across 26 cities in 20 countries, including multiple locations in the Americas, Europe, Japan, Korea, the Middle East and Asia. KidZania is operational in India at Mumbai since Sep 2013 and Delhi NCR since May 2016.
KidZania, An Award Winning Destination
2019                       "Brand Excellence Award in Amusement & Theme Parks"
@ABP – Brand Excellence Awards
2018                       "Experiential and Brand Experiences"
@ Times Network's National Award for Marketing Excellence
2018                       "Experiential Marketing Award for #adidasbyme campaign"
@ Global Customer Engagement Forum & Awards 2018
2018                       "India's Best Kids Edutainment Platform of the Year"
@ India Education Excellence Awards
2018                       "Best Edutainment Platform "
@ World Education Congress
2018                       "Best Edutainment Program"
@ Indian Education Awards
2018                       "Excellence in Edutainment"
@ Mid-Day Excellence in Education Awards
2015                       "Best Edutainment Brand"
@ World Children Expo
2014                       "Best Destination for Kids" & "The Best New Concept for Kids"
@ World Children Expo.
KidZania India, list of all Awards & Accolades: bit.ly/KZAwards
Ends