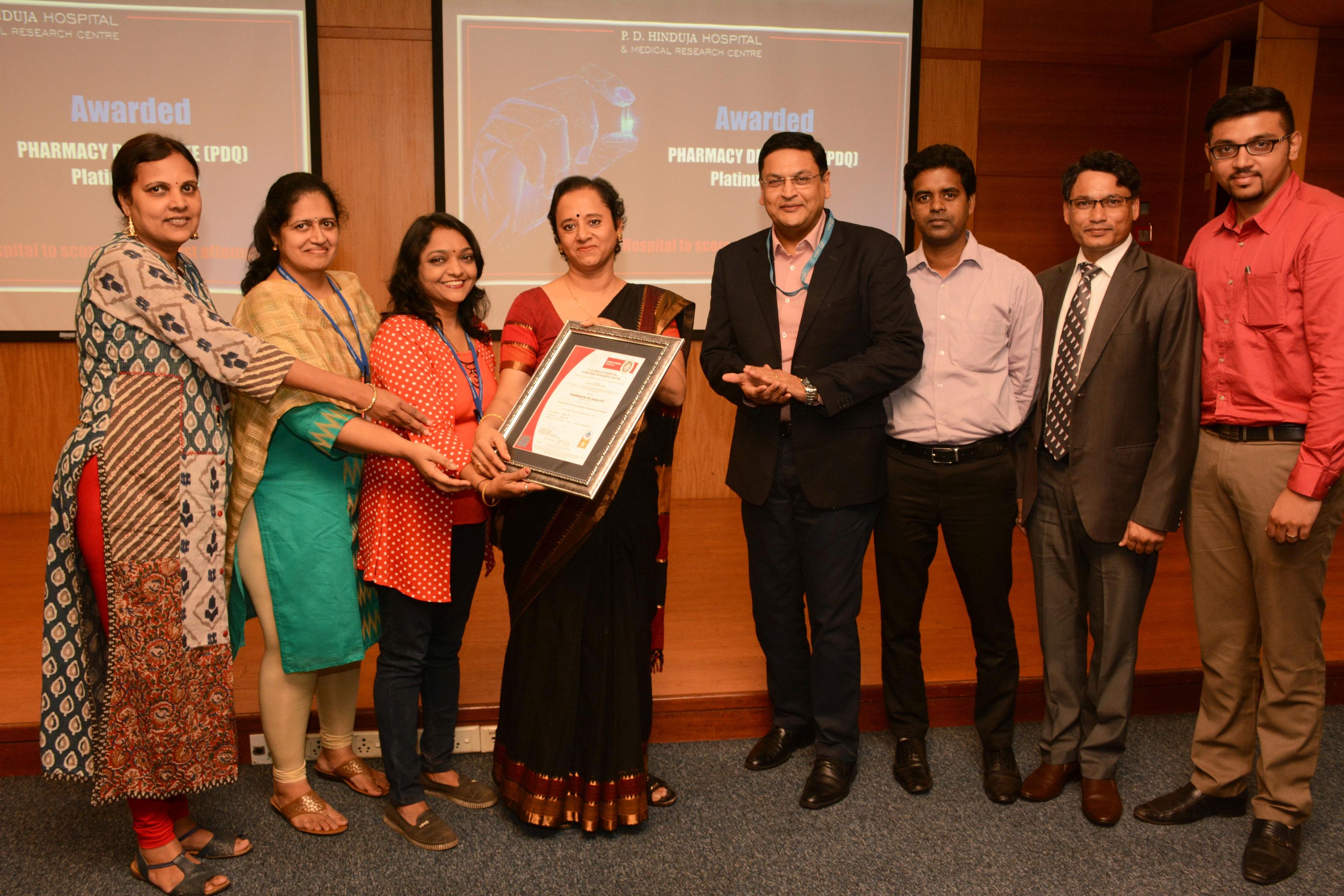 •The hospital becomes the first ever to score 100% in its first attempt
Mumbai; August 6, 2019 (GPN) : P. D. Hinduja Hospital & MRC was recently awarded the coveted Pharmacy De Qualite (PDQ) Platinum Grade certificate by Bureau Veritas in Pharmacy Management on July 23, 2019. The hospital also became the first hospital in the country to score 100% in its first attempt.
The Pharmacy De Qualite' certification programme has been brought to India by Abbott in association with Bureau Veritas – a global testing, inspection and certification services provider in order to create 'Pharmacies as centre of excellence'.
In order to achieve the 100% strike rate, the hospital had 9 trainers who conducted 26 training sessions. These sessions were followed with periodical bilingual written tests for the staff. Employees scoring less than 80% in these tests were again placed under the training sessions and prepped to take the tests again.
Accepting the award, Mr. Joy Chakraborty, COO, P. D. Hinduja Hospital & MRC said, "It's a privilege accepting this award from Bureau Veritas and feel all the more enthralled to know that P. D. Hinduja Hospital & Medical Research Centre is the first hospital to have scored 100% in its first attempt. This is a proud moment for the entire team at P. D. Hinduja Hospital who has worked tirelessly to achieve this feat. The award is the fruition of all the hardwork and dedication shown by the employees. The Pharmacie De Qualitie Platinum Grade has added another golden feather to our milestones. We aim to maintain this numero uno position in the market in the successive audits as well."
The Pharmacie De Qualite' certification highlights best practices of pharmacy, optimal services and evidence based care to patients. It recognises hospital pharmacy management, contribution towards improving effectiveness of health-care system, maintaining and improving professional performance and providing effective medication therapy management. Ends
About P.D. Hinduja Hospital & Medical Research Centre:
P.D. Hinduja Hospital and Medical Research Center, which started off as a clinic in 1951,is today ranked as one of the leading Multi-Specialty tertiary care hospital in the country. For over six decades, this institute has worked to ensure that world-class healthcare delivery is provided to all. The hospital has always been an early adopter of technology in delivery of care; being amongst the first few hospitals in the country to have Gama Knife technology, Digital Broadband MRI with ambient themes, True Beam Linear Accelerator and more. The hospital has on-board some of the best nationally and internationally recognized doctors. Quality care being the focus, it was amongst the early few hospitals that has been accredited and certified by NABH, CAP, and ISO. P.D. Hinduja Hospital was also one of the pioneers in its space to launch Care@Home and Short Stay Service in 2007 and 2008 respectively. It continues to partner with leading International Institutes, latest being an arrangement with The Division of AIDS (NIAID, NIH), U.S.A, to establish a center of excellence for infectious disease research in India. For its contribution to quality healthcare delivery, the hospital has also been bestowed with Best Multi-Specialty Hospital awards by different industry bodies. In line with one of its guiding principles "Work to Give", the hospital runs the Serve with Passion rural health programme, under which free healthcare services are provided to the tribal areas in Maharashtra and Dadra Nagar Haveli.