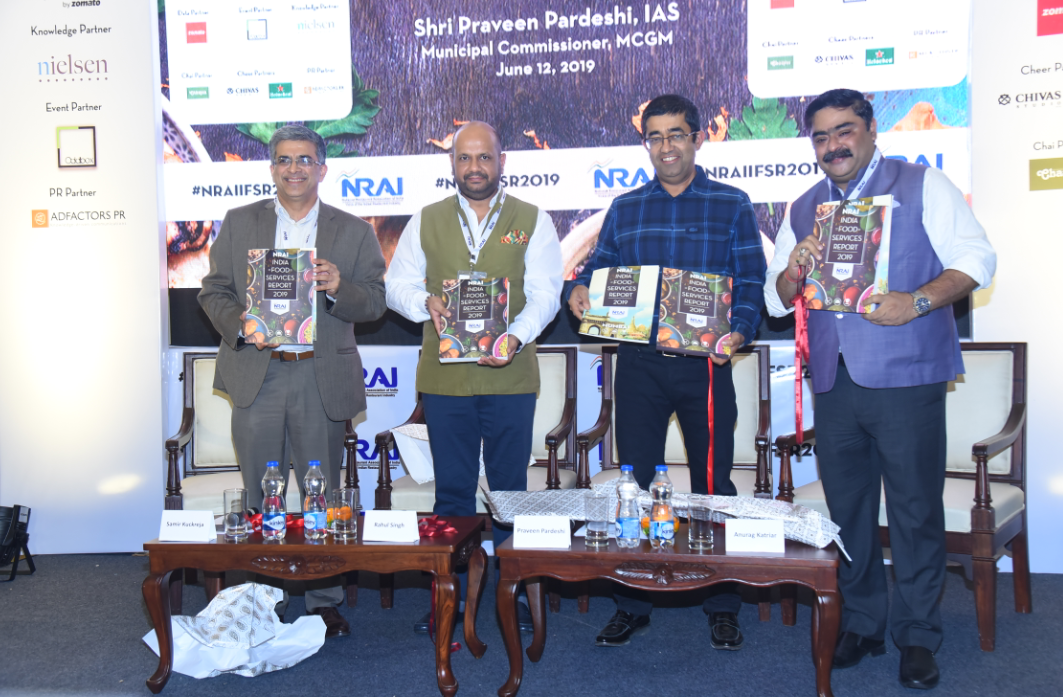 Mumbai, June 12, 2019 (GPN) : NRAI India Food Services Report 2019 (NRAI IFSR 2019), along with a Mumbai specific report, was launched by Shri Praveen Pardeshi today. Released once every 3 years, NRAI IFSR 2019 – is the 4th edition of National Restaurant Association of India's study to map trends, opportunities and challenges of India's food services sector.
Shri Praveen Pardeshi, Chief of Brihanmumbai Muncipal Corporation, while releasing the report and congratulating NRAI, said, "Mr Praveen Pardeshi in his speech announced a slew of measures that will ease the working environment of restaurant industry. He said that he is actively looking at reintroducing the rooftop policy for restaurants with proper norms. He also announced Abolition of Factory License as prescribed under the MMC act. 
He further added that the government is working for long-term renewal of excise licenses for a period of 3-5 years at one go. Eating house license is already being renewed for a period of 3 years as on date. He also informed the fraternity that the Shops and Establishment Act already permits businesses to operate 24×7 in Mumbai unless otherwise restricted by an executive order of a competent authority.
He assured that the Govt. of Maharashtra and BMC will collaborate with the industry to transform Mumbai's food landscape to add to its vibrancy."

Rahul Singh, President, NRAI while noting contributions of the Restaurant sector mentioned, "The Indian Restaurant Industry employed 7.3 million people in 2018-19. The organized food service sector, which is only 35%of the total market, contributed a whopping INR 18,000 crore as way of taxes in 2018-19. The number is expected to more than double if the unorganized sector becomes organized."
Anurag Katriar, Mumbai Chapter Head, NRAI and Executive Director and CEO, deGustibus Hospitality, sharing the highlights of the Mumbai supplement said "It's exciting to note that Mumbai has the highest share of the organized foodservice market in the country, and is growing at a CAGR of 41% since 2015-16. This exponential growth has also made it the provider of the highest employment in the food service sector amongst Delhi, Mumbai, Bengaluru and Kolkata. Home to a large migrant population, Mumbai has the 3rd highest frequency of eating-out and ordering in occasions amongst these cities.
However, Mumbai is still grappling with its own set of issues. In the absence of a single ministry and governed by regulations formed by various departments, conflicting orders that create confusion for the restaurant owners. Change in limitation on operating hours is required with implementation of the model shops & establishment bill. It will boost, not only the nightlife but also, employment and revenue for the government.  Our industry is still looking forward to a comprehensive policy for operation of food trucks and food truck parks and abolition of the archaic drinking permits in the cosmopolitan city. Mumbai, ranking 13th in the ease of doing business index, needs resolution to these issues for the restaurant industry to thrive to its full potential, with single window licensing being the ultimate prerequisite", he added.
Introducing the trade report to the audience, Mr. Samir Kuckreja, Past President and Trustee, NRAI said, "NRAI IFSR 2019 is an in-depth research study which maps out the scale and impact of India's food services sector. This report is crucial for the industry to garner the necessary support and recognition from the government and its agencies for providing a fillip for consistent and sustained growth. I would like to thank all the NRAI members for their contribution to the research study."
The report is a comprehensive compilation of data gathered from in-depth interactions with over 130 restaurant CEOs and 3500 consumers across 24 cities in India. The exclusive Bengaluru specific pull out provides extensive data on a variety of parameters like average monthly spend per person, popular hangouts, employment and consumer eating out behaviour trends.
A copy of the report can be bought at INR 20,000 on nrai.org/buy-report/.
ABOUT NRAI:
National Restaurant Association of India (NRAI) is the Voice of the Indian Restaurant Industry. Founded in 1982, it represents the interests of 500000+ restaurants, an industry valued INR 4,23,865 crores.
Being the leading association of the Indian restaurant industry, NRAI aspires to promote and strengthen the Indian Food Service Sector. Headquartered in Delhi, the association in its 36th year has a pan India presence with members comprising of restaurants, suppliers and educational institutes associated with it.
NRAI is governed by a committee of members and led by a President and Office Bearers. The committee consists of over 35 Restaurant CEOs / Owners representing various national and international brands from the F & B sector. The association works closely with a network of State and City chapter partners in Delhi, Mumbai, Gurugram, Bengaluru and the recently added Kolkata Chapter. The Chapter activities include:
Ground work and action pertaining to government issues and representations

Facilitate the exchange of knowledge & experience

Provide support in the overall development of the association
Our Vision
NRAI aspires to lead the Indian Restaurant Industry to greater profitable growth representing interests of members through advocacy, training, research and industry events.
NRAI Aims to
Advocate changes in the laws governing the Indian Restaurant Industry at Local, State and Centre levels

Provide opportunities to educate members

Play a key role in promoting skilling and career opportunities for industry professionals through the Hospitality Sector Skill Council.