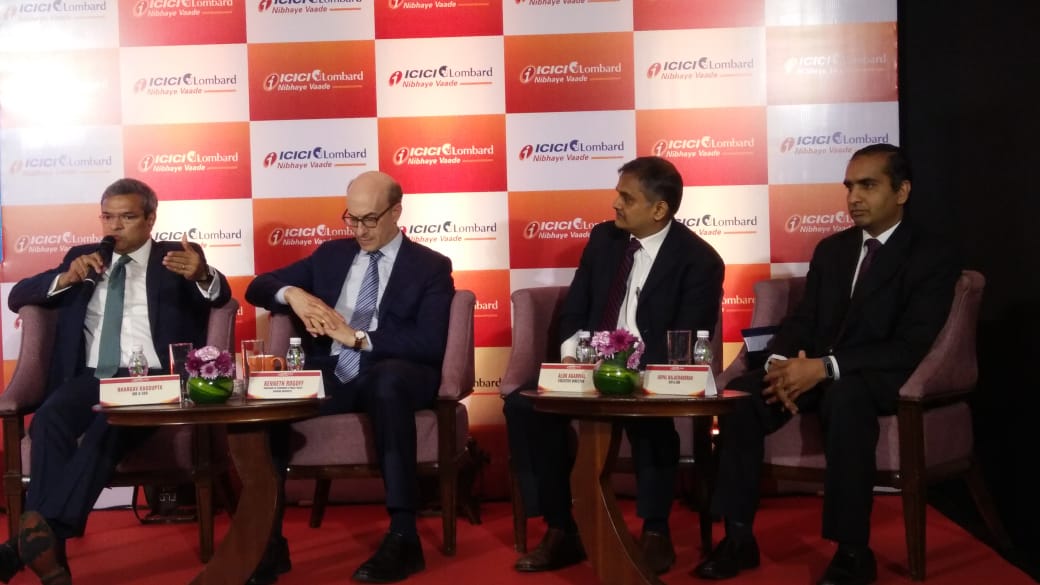 Mumbai, February 07, 2019 (GPN) : ICICI Lombard, the leading private sector non-life insurance company in India, has commissioned a PAN India survey titled 'Managing New Age Risks' to assess the preparedness of Indian organizations towards new age risks. Feedback from CXOs from 100 companies across various sectors was taken for this research.
India Inc. is witnessing unprecedented times as technology becomes a part of life for all companies – irrespective of the sector one operates in. With new technology such as Artificial Intelligence, Robotics, Cloud Computing, Blockchain, Internet of Things (IoT) come the associated risks such as cyber-attacks, data theft, cloud hacks etc. India was the target of 17% cyberattacks, second only to US (38%) between 2015 – 2017 as per a report by Symantec Corp, USA.
ICICI Lombard delved into understanding the risks that India Inc. perceives as critical for business, the importance of new age risks in their operations and the preparedness & ability of companies to handle new age risks. It also looked at the role of insurers in managing risks from the lens of Indian firms.
The research findings were unveiled by Bhargav Dasgupta, MD & CEO, ICICI Lombard, Alok Agarwal, Executive Director, ICICI Lombard and Gopal Balachandran, CFO & CRO, ICICI Lombard in the presence of Prof. Kenneth Rogoff, Professor of Economics & Public Policy at Harvard University and a former Chief Economist at International Monetary Fund (IMF).
The report highlights that companies still consider traditional risks as extremely crucial for their businesses. 58% of the respondents thought that property and assets was the most pivotal risk followed by employee health and accident (53%). Machinery and equipment closely followed at 52%. When asked on which risks have been gaining importance in the last 3 years, the response was clearly for new age risks such as cyber-crimes, data theft etc. 67% of India Inc. today feels that risks from cyber-crimes have increased substantially in the last 3 years and 63% believe risks from data thefts have gone up substantially in the same period.
In terms of the challenges to handle risks, 43% company executives mentioned each new age risk incident to be unique, while 42% found it difficult to even identify the source of the new age risk incident, making managing it a tough task. 21% firms believed that new age risk incidents spread too fast, making it difficult for firms to handle them.
Lack of internal capabilities was a key takeaway when it came to preparedness of organizations in managing new age risks. 41% respondents believed that their existing systems were not equipped to handle these risks, while 39% companies felt there was a shortage of skilled manpower that could address these risks.
When asked about the best way to handle new age risks, 71% companies had a unanimous response that new age risks would rather be prevented, instead of being handled when they occur. On the role of insurers, 81% companies believe that insurers are equipped to a certain extent in managing new age risks. Specifically, companies believe that insurers are more equipped to manage risks such as cloud computing (100%) and cyber-attacks (69%). However, when it comes to data theft related risks, 63% firms believe that the same can be managed internally.
According to Mr. Bhargav Dasgupta, MD & CEO, ICICI Lombard, "New age risks are already a reality today, globally and in India. It is most critical that Indian firms take cognizance of this aspect. As is evident from our 'Managing New Age Risks' survey, being prepared and having the right risk management framework in place is the need of the hour. At ICICI Lombard, we are partnering with our clients to ensure that they are equipped with appropriate and adequate 'risk management and mitigation' solutions to effectively handle any prospective 'new age risk' incidents." ENDS