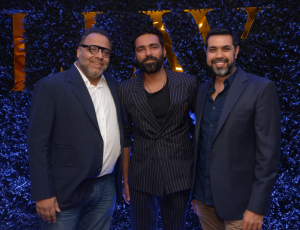 Mumbai, December 20th, 2018 (GPN) : After the tremendous success and overwhelming response to the inaugural edition in March 2018, Luxury Lifestyle Weekend (LLW) 2019, brought to you by Magnanimous Group, is all set to enthral you all over again.
Last evening, the organisers of LLW hosted The Reveal where the first set of participating brands, partners and LLW insiders were unveiled. It was graced by some of the country's most discerning individuals, as well as aficionados who are well-versed with the finer nuances of luxury.
As India's first and largest-ever luxury platform, LLW 2019 promises an elaborate weekend that indulges connoisseurs with one-of-a-kind experiences that allow them to engage and interact with some of the world's most exclusive luxury brands. The objective is to offer an enriching ecosystem where both ends of the luxury spectrum (consumer and brand) build a prolific rapport.
LLW 2019 is estimated to draw 30,000+affluent individuals who have an insatiable taste for life's very best and also frequent international luxury fairs like Baselworld, SIHH, Masterpiece, Millionaire Fair and others. From art, watches, real-estate, interiors and artisanal confectioneries to beauty, fashion, jewellery as well as travel & hospitality — expect more than 100 brands, across 10 categories rolling out curated products, previews and bespoke pop-up experiences.
Think never-seen-before collections, specially curated brand engagements, the best of culinary offerings, sought-after international entertainment, power panels, charity auctions and art installations along with brunches, lunches, high-teas and cocktails with industry leaders and thought influencers.
The first edition of LLW in March 2018 received great feedback from the luxury industry – over 100 participating brands including Rolls Royce, Ferrari, Christie's, Sotheby's, Panerai, Hublot, Franck Muller, Abu Jani Sandeep Khosla, Rohit Bal, Fendi Casa, Forevermark, Heeramaneck and Son, TGL Teas, Yoku Moku, Jo Malone, Estée Lauder, Forest Essentials, Bobbi Brown, Kérastase to name a few. LLW 2018 provided the first ever interactive and immersive experience at this scale in India.
Founder of LLW and Managing Director of Magnanimous Group, Mr. Akash Sheth, quoted"Today, the luxury market in India garners huge attention, as most of the global luxury brands have already arrived or are expected to enter. And, after the reverberating success of the edition, LLW 2019 will stay true to its promise of offering a unique platform for luxury lifestyle brands to showcase themselves to a select and discerning audience."
Better still, LLW 2019 takes immense pride in shedding light on a new wave of consciousness that's sweeping across the world with "conscious luxury" as its overarching theme. It is a concept that stems from the awareness of that we've had on the deplorable condition of the planet and the willingness to make a change. With this initiative LLW 2019 endeavours to slowly and steadily transition the world of luxury into a more conscious and sustainable space.
Speaking about this, Mr. Kunal Avanti, Joint Managing Director, Magnanimous Group, says,"Unfortunately, the earth is on the brink of a total climatic and environmental breakdown. Within a span of just 70 years, our choices have wiped out over 60% of species in the animal kingdom. And while luxury is an extremely subjective affair, we are at point in time where we need to question ourselves about what we are indulging in and its impact on future generations. LLW takes immense pride in kick-starting this movement."
MEET OUR PARTNERS
Associate Sponsor
1              Chivas
2              IIFLW
Experience Partners
1              The Royal Salute
2              Sofitel Hotels & Resorts – Mumbai
3              LightHouse Co
MEET OUR PARTICIPATING BRANDS
Confirmed Brands
1              A Club
2              Adil I Ahmad – The Palace Collection
3              Adil I Ahmad with Aditi Parashar
4              Agaro – Artisan Jewellery
5              Aleah Ahmad
6              Aligne
7              AM:PM
8              Andraab
9              Araya Fine Jewelry
10           Atout France (Is also Opening Night Partner)
11           Aveda
12           Ayia Napa Marina
13           Begani Jewels
14           Bespoke Home Jewels
15           Bovet
16           Christie's
17           Deepa Gurnani
18           Ferrari
19           Forevermark
20           Franck Muller
21           G.H.Mumm Champagne
22           Gavin Miguel
23           Globetrotter
24           Heeramaneck and Son
25           Isharya
26           Jaipur Jewels
27           Jaipur Rugs
28           Jeep
29           Jewels of Jaipur
30           Jo Malone
31           Jumeirah Hotels & Resorts
32           Kérastase
33           Kresha Bajaj
34           La Vallee Village (Is also Opening Night Partner)
35           Le Mill
36           Lexus
37           Linari
38           Lotus – Arts De  Vivre
39           Mahesh Notandass Fine Jewellery
40           Mercedes-Benz
41           Millwood Kane International
42           Occasions Fine Jewellery
43           Padma Gems
44           Pahadi Local
45           Panerai
46           Princess Yachts
47           Renu Oberoi
48           Ressence
49           Ritika Mirchandani
50           R K Marble
51           Rohit Gandhi + Rahul Khanna
52           Savanna
53           Scentido
54           Shruti Sancheti
55           Silhouette – Hair & Beauty
56           Smash Box
57           SVA
58           Swapna Mehta
59           The Glenlivet
60           Villa Interieur
61           18 Carat House
Brands by Le Mill
1              Alexander McQueen
2              Altuzarra
3              Ancient Greek Sandals
4              Balmain
5              Chloe
6              Dries Van Noten
7              Halpern
8              Isabel Marant
9              Johanna Ortiz
10           Jonathan Simkhai
11           Raquel Allegra
12           Rosie Assoulin
13           Sacai
14           Saloni
15           Ulla Johnson
16           Vanda Jacintho
17           Vishenko
18           Wandering
19           Wandler
20           Zimmerman 
MEET OUR LLW INSIDERS
1.            Sonam Babani
2.            Rizwan Bachav
3.            Maia Sethna
4.            Aaliya Nensey
5.            Tina Kakkad
6.            Karishma Samat
7.            Payal Shah
8.            Natasha Luthra
9.            Priyanka Sagu
10.          Namita Alexander
11.          Khushnaz Turner
12.          Aastha Sharma
13.          Summiyya Patani
14.          Dhillon Bhatt
15.          Jannat Miranda
16.          Mitali Sagar Patel
17.          Jinita Sheth 
 ENDS
About Magnanimous Group:
A boutique luxury lifestyle organization with headquarters in Mumbai, Magnanimous Group brings alive disruptive, distinct ideas to create innovative experiences at the right places, for the right people. Magnanimous Group is devoted to delivering seamless services, via its five verticals: brand consulting, events, destination weddings, talent management and travel. Each business presents a distinct translation of luxury for the contemporary, Global-Indian. Brands including Airbus, Cartier, LVMH Group's Christian Dior Beauty and Moët Hennessy India, Ferrari, Jo Malone, Maserati, Richemont Group's Montblanc and Piaget, Rolls Royce, Starwood Hotels and Resorts' St. Regis Mumbai and W Hotels and Young Presidents' Organization, to name a few, constitute the Group's esteemed roster of clients. Since its inception in 2014, the Magnanimous Group has worked with more than 40 international luxury brands and executed over 100 events.