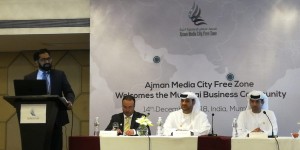 •The India Road Show series held in Chennai, New Delhi and Mumbai continues to bring strong interest in free zone  from Indian SME entrepreneurs and investors.
Ajman Media City Free Zone senior delegation in India as a part of global trade mission
The brand new investment hub of UAE offers cost effective business licensing  for Indian entrepreneurs and investors at 50 % Lesser prices than, fellow competitors.The issuance of licenses is comparatively spontaneous within a time frame of two hours and Visa in two days.
India Road Shows December 2018 in three major cities : Chennai, New Delhi and Mumbai.
Mumbai, 14 December, 2018 (GPN) : The senior level delegation of Ajman Media City Free Zone led by His Excellency Mahmood AlHashmi, CEO of Ajman Free Media City continues the road shows series India with strong interest of the business community.
The Ajman Media City Free Zone investment forum in Mumbai was held today at St. Regis, Hotel, Mumbai preceded by the second investment forum which was organised in New Delhi preceded by first Investment forum that was held in Chennai on 11th December.
The forum was attended by over 60 representatives of SMEs and Chartered Accountants.
H E Mahmood AlHashmi, CEO of Ajman Free Media City said, "The partnership is part of our global trade relation mission. Establishing a business in UAE, one of the fastest growing markets, has become much easier and cost effective with Ajman Media City Free Zone (AMCFZ).Already India accounts for over 34% of our clientèle.We are looking to attract more investment from India."
He added, "There is no tax or customs duty. The Free Zone provides robust infrastructure in terms of internet connectivity. There is also low cost energy and manpower availability. People can bring in money and take it out easily and the investment cost is lower and 50% cheaper compared to other competitors in the arena which turns out to be major attractions for potential media investors."
AMCFZ a new investment destination in the Emirate of Ajman, is looking to attract more investments from the media, entertainment and digital sector in India, a top official said.
Rishi Somaiya, Commercial Advisor of Ajman Media City Free Zone, added,"The three city road show will give the Indian business community the opportunity to review a choice of investor-friendly options of AMCFZ as well as meet senior officials of the free zone, who will assist them with these business solutions."
Ajman Media City Free Zone offers innovative investment services:
Flexible and cost effective packages for investors to set up a fully legal entity in the UAE
Special packages and ready to use business support services
Social Media Influencer package from Ajman Media City Free Zone for the growing global community of bloggers
Lowering the cost of doing business in the UAE
In another landmark decision Ajman Media City Free Zone has removed the mandatory requirement for the potential owners to visit the free zone office to set up a company.
No deposit mandate offers big incentive to new business owners
Business Club package for entrepreneurs gives instant access to the region with minimal investment
REQUIRED DOCUMENTS :
The investor shall fill in the application and attach the following documents
A-FOR FREE ZONE ESTABLISHMENTS (FZE) :
1.Passport copy
2.Colour photograph
3.Application form duly filled online
4.Company name options
B-FOR FREE ZONE ESTABLISHMENTS (FZC) :
1.Passport copy of all partners
2.Colour photograph
3.Application forms duly filled online
4.Company name options
-Ends-