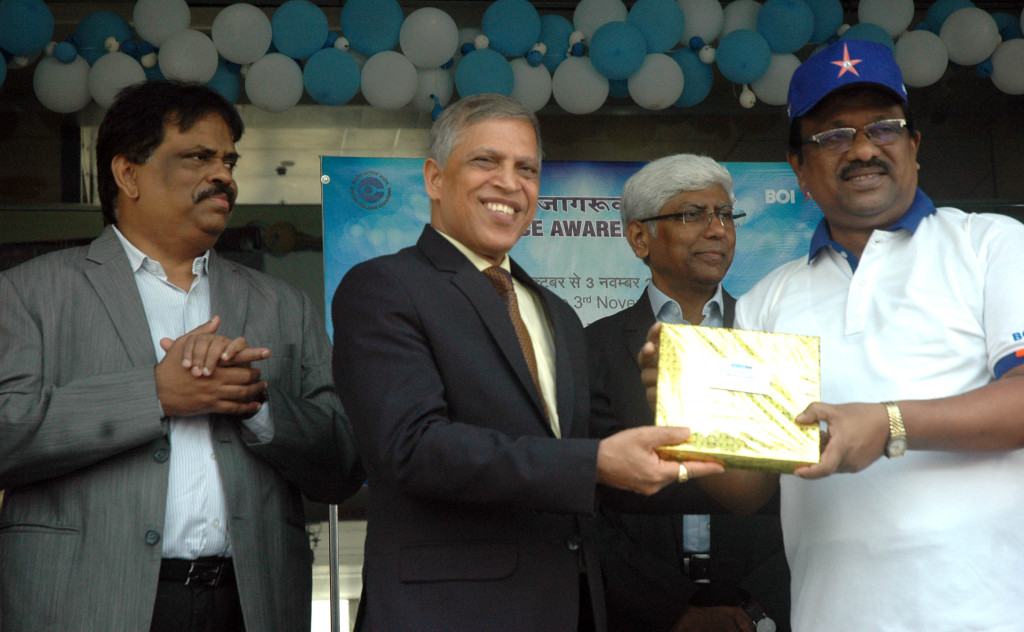 For the first time ever amongst PSU banks, Bank of India organizes a specialized 2-day Training Programme in "Cyber Crimes in Banking" for Maharashtra Police Officials
      Close to 50,000 Bank Employees of BOI participate in Vigilance Awareness Week
      Bank Employees participate in Human Chain in BKC and major cities of the country
Mumbai, November 1, 2018 (GPN) : Bank of India has organized several outreach programmes on the occasion of Vigilance Awareness Week (October 29 to November 3, 2018) on the theme "Eradicate Corruption- Build a New India" envisaged by Central Vigilance Commission. In unique initiative the bank organized a Specialized training program for Maharashtra Police on Cyber Crimes in Banking, All staff in branches and offices in India and overseas undertook an 'Integrity Pledge' to work for eradication of corruption and build a new India. A human Chain was organized in association with 4 other Banks comprising of 1,300 bank staffers.
Speaking on the occasion of Vigilance Awareness Week, Shri Dinabandhu Mohapatra, MD & CEO, Bank of India said, "This is a unique occasion where close to 50,000 of our employees from all branches are actively participating in several outreach programmes for creating awareness among youth, employees, their family members and the public at large, highlighting the evils of corruption and its impact on society."
In this context, Mr. Mohapatra also urged people at large and bank's employees to maintain the highest level of integrity and work towards the eradication of corruption at the workplace ad in every sphere of life.
At Bank's Head Office in Mumbai, Executive Director, Shri C.G. Chaitanya administered the integrity pledge to the Executives of the Bank. Messages of President, Vice President and CVC were also read by CVO, Shri Devendra Sharma. Other staff members were administered pledge by department heads. This was followed by various other outdoor events/activities including display of hoardings, etc. A large balloon displaying CVC's message was installed on top BOI HO building. ENDS