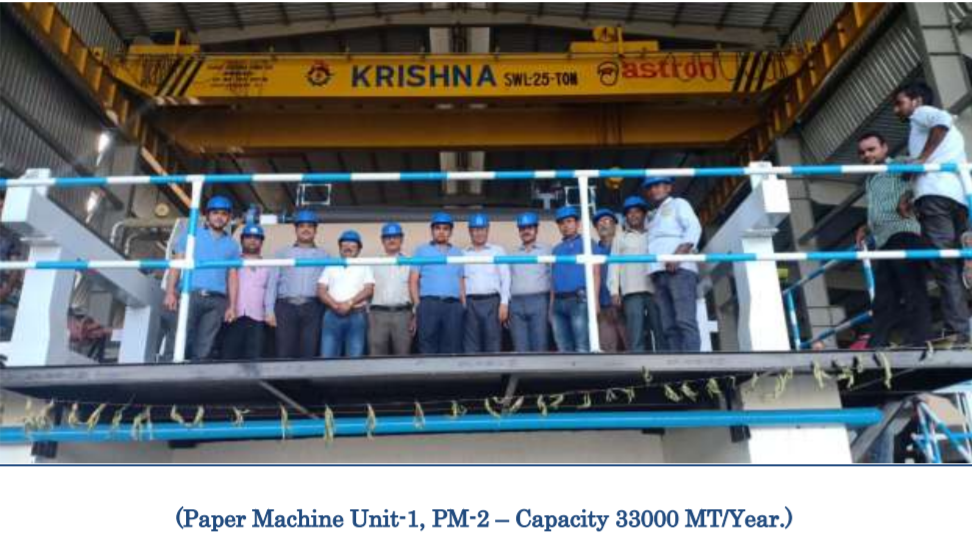 Mumbai,
15 October,
2018 (GPN)
: Astron Paper & Board Mill Limited
Company's PM-2 located at HALVAD, GUJARAT has commenced commercial production of kraft paper from today i.e 15th October, 2018 having installed capacity of 33000 MT/year.
Capacity Expanding Rapidly : Company is currently operating at almost 90% capacity utilization of its PM-1 located at HALVAD, GUJARAT with installed capacity of 96,000 MT per annum. With the commencement of commercial production for the new line PM-2, the installed capacity has increased by 33,000 MT/Year.
In the last one year our company has acquired two plants. The acquired plants include plant located at Bhuj, having capacity of 24000 MT/Year, which was acquired by auction from Union Bank of India in December, 2017 andcommenced commercial production in February, 2018. The Company also acquired Balaram Papers Pvt Ltd, located at MEHSANA, GUJARAT by way of Wholly Own Subsidiary Company having installed capacity of 21600 MT/year. As on date Company having installed capacity of 174600 MT/year (including 21600 MT/Year of Wholly Own Subsidiary i.e Balaram Papers Pvt Ltd).
Since inception waste paper has been used as raw material instead of traditional usage of wood thus promoting the eco-friendly world. The plant is situated near the port giving it
location advantage.Strong Demand for Kraft Paper At Unit-1, Company's current products range is mainly from 140 GSM to 350 GSM. To Setting up of additional facility for manufacturing of Kraft Paper with lower GSM ranging from 80 to 180 GSM, now Company proposing to expand its product range by installing this PM-2 from 80 GSM-350 GSM. Now at Unit-1, Company's current product range is from 80-350 GSM.
The clients of Astron Paper convert kraft paper into cartons and supply to companies in FMCG, Home appliances, Pharmaceuticals, Auto, Food & Beverages, E-Commerce etc including large MNC's. These vendors prefer larger Kraft paper manufacturers like Astronwho can supply entire range of packaging paper, who also as required get their paper pre-approved by the client for paper quality and specifications. The demand for Kraft paper is strong and increasing with every year from new applications like fruit vegetables, groceries, plastic ban, e-commerce for re-packaging and shipping. The Kraft paper and Corrugated Box industry is fast becoming a sunrise industry. Last week the Indian Corrugated Case
Manufacturers association held its 6th annual three day exhibition in Mumbai, In which Astron was also one of the participating company and got a lot of interest from both national as well as international companies.
Financial Performance :
Astron reported strong sales in the 1st 3 months of FY19 at Rs.81 crore, up 60% YoY. For the full year FY18 the company reported Rs.254 Crore, up 37% over FY17. EBIDTA for the 1st 3 months of FY19 Company has reported Rs.11 Crore was up 61% YoY, with EBIDTA margins improved to 13.40% during the current quarter, on back of better efficiencies and higher volumes.
Under the visionary leadership of Shri Kirit Patel, Chairman & Managing Director, Company achieved many mile stone since inception, Company looking forward to receive continuous support from all the stakeholders.