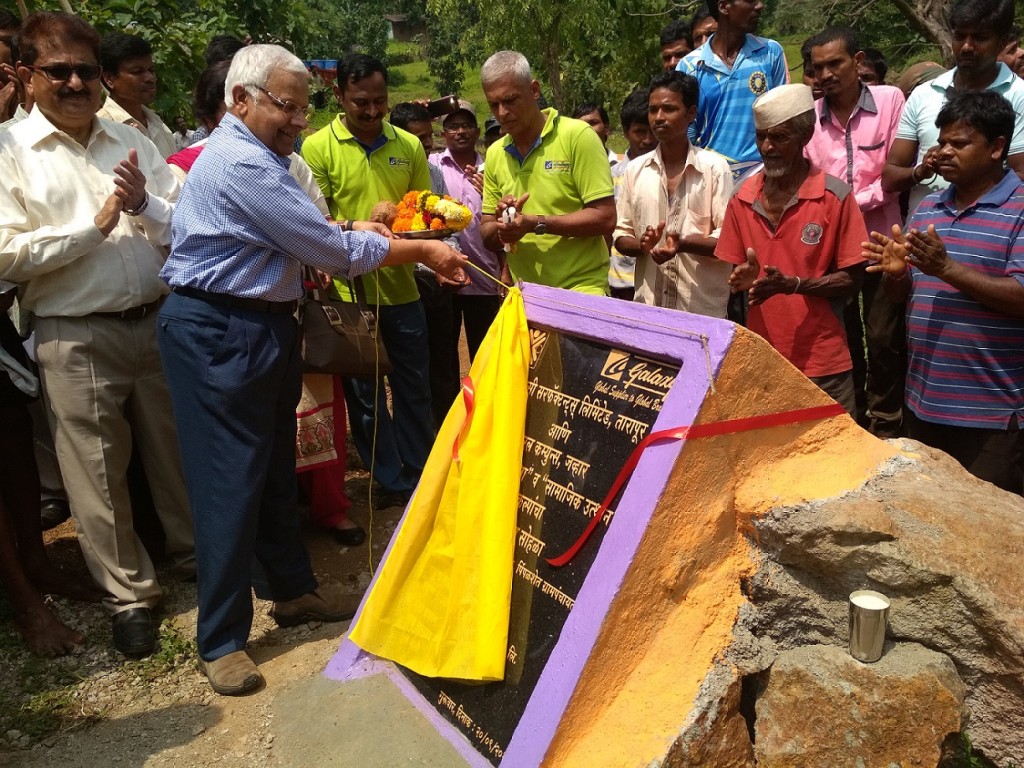 Galaxy builds 2nd check dam storing 1.15 cr litres of water under its 'Vatavaran Suraksha & Samajeek Utthaan' CSR project
Secures over 530 families & 2,500+ people in the village
Mumbai, 4th October 2018 (GPN) : Villages of Kharonda, situated in the district of Palghar, Maharashtra, receive surplus rainfall, however it is water deficit for over 8-9 months of the year. This is due to the lack of water storage facilities in the village. As a result, villagers were forced to migrate during these months, which led to its own share of problems for the locals.
Water being the core of human lives, pulled the attention of Galaxy Surfactants Limited, who operate a plant in Palghar District. Galaxy Surfactants Limited has an objective of being a water positive company. In the process achieving this objective along with water saving projects in their factories, their CSR activities are also dovetailed in meeting these goals.
The problems of the Villages of Kharonda came to the attention of the Galaxy Team. It was thus decided that constructing a check dam would mitigate the problems of these villages. The team set out to work with the locals, and the land for this was generously donated by two farmers, Babji Sonya Ravate & Nandu Navsha Nadage. Plans were drawn and the company engineers participated fully in the construction of 2 check dams. Project 1 was the construction of a check dam at Navlyachapada, which helped in storing 20 Lakh Litres of water. Gaining from this experience, the Team at Galaxy set out to work for Project 2 at Kharonda Village. This project was 5 times bigger in scale & required greater attention. The Construction of the second dam was completed successfully in record time with a capacity of 1.15 Crore Litres.
Mr.U Shekhar, MD of Galaxy Surfactants Limited inaugurated this second check dam on 20th September, 2018. It will helptransform the lives of over 530 families and 2500+ people, who can now live & earn their livelihood without having to migrate.
Mr. U Shekhar said, "We, at Galaxy, feel that the foundation of our existence is our environment and the society we live in. CSR and Sustainability initiatives play a vital role in bringing a positive transformation in the people and the planet. With our various projects such as creating check dams, planting saplings, educating people, improving the living standards in terms of health and hygiene and providing livelihood opportunities to the community; Galaxy has been successful in bringing about a positive change in society and the environment."  He added, "We use water to make high quality surfactants, but no one can make water. But, everyone can save water, and we help to save water."
Galaxy Surfactants Ltd. has achieved significant progress on its Sustainability Goals 2020. It has succeeded in exceeding its goal of tree plantations (over 42,000 trees). Life Cycle Assessment studies have been completed for select major products to estimate environmental impacts over the product life cycle. Galaxy is working towards incorporating sustainability across its supply chain by assessing its suppliers on their environment and social performance. Its manufacturing sites in India and Egypt are RSPO certified, which reflects commitment to a sustainable palm oil supply chain. Under their CSR Project "VATAVARAN SURAKSHA", Galaxy has undertaken various water harvesting & restoration initiatives for the benefit of the community at large. They have been working towards reducing their water footprint through projects involving innovative practices like recharging of bore wells, construction of KFP structures & restoration of lakes.
About Galaxy Surfactants Limited:
The Company is one of India's leading manufacturers of surfactants and other speciality ingredients for the personal care and home care industries. Its products are organized into the following product groups: Performance Surfactants and Speciality Care Products. Its products find application in a host of consumer-centric personal care and home care products, including, inter alia, skin care, oral care, hair care, cosmetics, toiletries and detergent products. The Company's diversified customer base currently comprises of multinational, regional and local FMCG companies, including, inter alia, Unilever, Cavinkare Private Limited, Colgate-Palmolive (India) Limited, Dabur India Limited, Henkel, Himalaya, L'ORÉAL, Procter & Gamble, Reckitt Benckiser, Jyothy Laboratories Limited and Ayur Herbals (Private) Limited. Currently, its product portfolio comprises over 200 product grades, which are marketed to more than 1,750 customers in over 75 countries. At present, it has 7 (seven) strategically-located manufacturing facilities, out of which 5 (five) are located in India (Tarapur & Taloja in Maharashtra; and Jhagadia in Gujarat) and 2 (two) are located overseas (in the US and Egypt). Beyond the legal requirements, Galaxy has adopted world-class practices and systems like ISO 9001:2015, ISO 14001:2004, OHSAS 18001:2007, ISO 22716:2007, ISO 14064-1:2006, Responsible Care Global Charter, SQC, 5S, and TPM (won the Special Award in 2007), EcoVadis Gold Recognition (2016). The Company has a technologically advanced well equipped Innovation Centre for New Product Development and Application Development at Navi Mumbai, India.