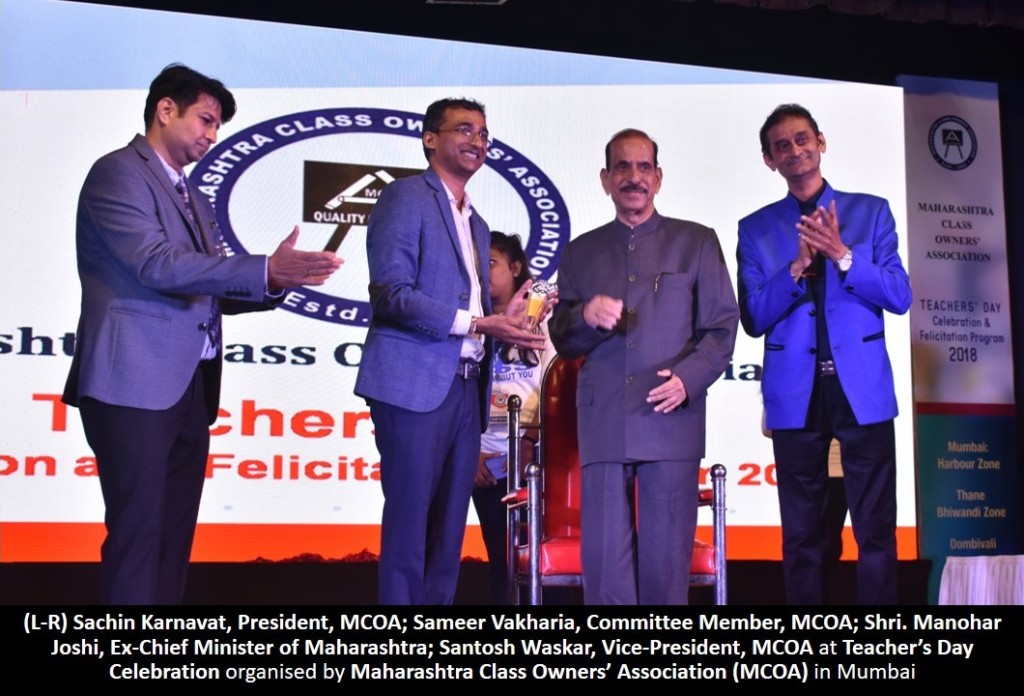 1000 Class Owners from Maharashtra participated to celebrate Teacher's Day Function organised by Maharashtra Class Owners' Association (MCOA)
Teacher's having outstanding contribution in the field of Education were felicitated by the legends of Education Fraternity.
Mumbai, 3 October,  2018 (GPN) : Teacher's Day was celebrated by Maharashtra Class Owners' Association (MCOA) a- non-profit making association of class-owners in Maharashtra; where teachers were felicitated because of their outstanding contribution in the field of Education by the legends of Education Fraternity. Shri. Manohar Joshi, Ex Chief Minister, Ex Speaker was present as aChief Guest and Shri. Jagdeep Kapoor, Brand Guru, Samsika Marketing Consultants was the Guest of Honor. The event was organised at King George Auditorium, IES, Raja Shivaji Vidyalaya Sankul, Hindu Colony, Dadar East, Mumbai.
Event witnessed participation from eminent personalities from the coaching class industry like Shri. JK Shah, Chairman, JK Shah Classes; Shri. Mahesh Shetty,Chairman, Mahesh Tutorials Educare Ltd.; Shri. Sanjeev Gala, Marketing Head, Navneet Ltd. and more than 1000 class owners from Maharashtra.
Shri. Manohar Joshi in his address shared his experience of starting his career as a teacher and slowly and gradually making big in life by true dedication. He said that, "there is a good scope of improvement in the education system and with the modern technology this is easily possible. It is necessary that students must get proper guidance which can only be given by parents and teachers. India must rank 1stin the quality education."
In Presidents Speech Sachin Karnavat talked about the progress in last 1.5 years under his leadership and membership which increased by 5 times. MCOA filed written petition against Integrated Coaching & thus Education Minister banned Integrated. With strong follow–up, Royalty payable by class-owners to Balbharati was also reduced by MCOA. He also expressed that, classes don't take any subsidy or grant from Govt., pay Income-Tax & Profession Tax. 18% GST is a big burden. He said that the matter will also be taken up with Revenue Secretary.
Experiences and speeches were delivered on stage by the experts in the educational field. Followed by a musical evening, wherein Munawwar Ali sang some songs.
About MCOA:
MCOA is established to bring all coaching class owners under one roof & fight for their problems. The Association is at the forefront in taking up matters with Education Minister like paper leaks, wrong question, clashing time-tables, exam center etc. The Committee put forth views to the government on issues like Colleges involved in Capitation, Reduction of GST, Integrated coaching, Copyright act, Regulation bill by Govt. for coaching classes.
MCOA conducts monthly seminars and workshops at zonal levels across Mumbai and outskirts which helps all the class owners to be at par in the ever changing Education industry & provide the best services. They have formed a separate body called Teacher's training institute which runs a comprehensive certified course called 'Train The Teachers' for teachers. Here committee trains them into Teaching Skills, Education Psychology & Personality Development.
For more information, kindly visit: www.classowners.com