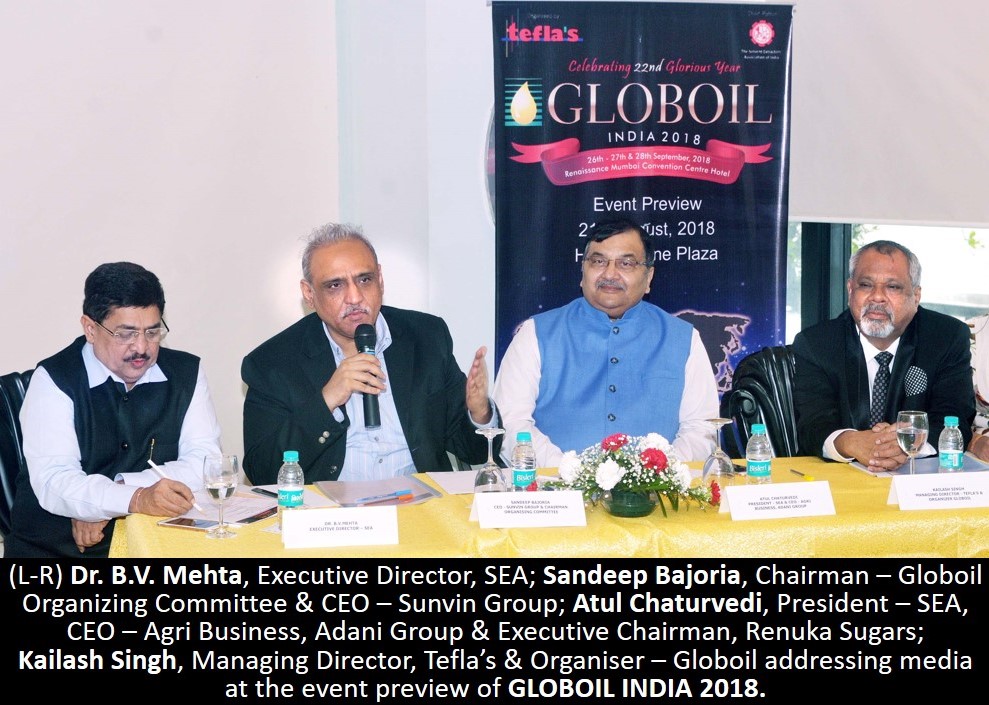 GLOBOIL INDIA , 21 August,  2018  (GPN) – the Premier International Conference on Vegetable Oil, Feed & Feed Ingredients, Oilseeds & Oleo chemicalsorganized by Tefla's under the patronage ofThe Solvent Extractors' Association of India is scheduled during 26th – 27th – 28thSeptember 2018 at Renaissance Mumbai Convention Centre Hotel, Powai, Mumbai.This would be the 22nd Glorious year of the event. Globoil India is one of world's largest trade events in Agri – Space specifically focusing on edible oil & related industries. Started in 1997 Globoil India has over the last 22 years become a calendar event for all those associated with the world oilseeds, vegetable oils and oil meals /feeds market as the conference draws leading industrialists, policymakers, domain experts and analysts who share their in-depth knowledge and crystal-gaze into the future. Every year a large no. of Companies from all over the world including Indonesia, Malaysia, Singapore, China, Middle East & Europe participate in Globoil.
This year, apart from India, event is likely to witness huge participation, Business & Ministerial Delegations from Malaysia, Indonesia, Ukraine, Argentina, USA, UK, Middle-East & Germany. More than 1000 Delegates & around 100 Exhibitors will be participating in this event.
Guests of Honor for the events are H.E. Darmin Nasution, Coordinating Minister for Economic Affairs, Govt of Indonesia; Ibu.Ir. Musdhalifah Machmud, Dy Minister for Food and Agriculture Coordinating Ministry for Economic Affair, Govt of Indonesia; Shri. Ram Vilas Paswan, Hon'ble, Union Minister Food, Public Distribution & Consumer Affairs, Govt of India and Shri. Shiv Pratap Shukla, Hon'ble Minister of State for Finance, Govt of India would also be gracing the occasion for the Globoil Awards Ceremony.
Distinguished Speakers in this event include Thomas Mielke, Editor-in-Chief, Oil World, Hamburg, Germany; Dorab Mistry, Director – Godrej International Ltd, London;Dr. Julian McGill – Head-South East Asia, LMC International, U.K; Dr. Sathia Varqa, Co-Founder, Palm Oil Analytics, Singapore;Nadir Godrej, Managing Director, Godrej Industries, India; Mahendra Siregar, Executive Director, Council of Palm Oil Producing Countries, Indonesia; Svetlana Sinkovskaya, Head-Marketing Department, APK-Inform Agency, Ukraine; Atul Chaturvedi, President – SEA & CEO – Agri Business, Adani Group; Sudhakar Desai, CEO, Emami Agrotech; Angshu Mallick, COO, Adani Wilmar Ltd; Sandeep Bajoria, CEO – Sunvin Group; Mrugank Paranjape, Managing Director & CEO, MCX; Vijay Kumar Venkataraman, Managing Director & CEO, NCDEX & Nagaraj Meda, Managing Director – Transgraph Consulting Pvt. Ltd.
In the Current Edition of Globoil India,discussion on various topics related to Edible oil would take place which would lead to generation of ideas and insights which can help scripting the India Edible Oil Story better.  According to a latest update from the Solvent Extractors' Association (SEA) of India, the import of vegetable oils during July 2018 is reported at 1,119,538 tons compared to 1,524,724 tons in July 2017 consisting 1,053,713 tons of edible oils and 65,825 tons of non-edible oils i.e. down by 27%. The overall import of vegetable oils during November 2017 to July 2018 is reported at 10,766,076 tons compared to 11,392,296 tons i.e. down by 5.5%.
Mr. Kailash Singh, MD, Tefla's & Organizer Globoil India is of the view that, Globoil India is now an established annual feature and is keenly looked forward by the players in the vegetable oil trade and industry. A truly interactive forum, Globoil is enriched by international participation and provides an index of the rising importance of India in the Global Market Place. Over the years this forum has been successful in forging close relationship with various constituents of the International Edible Oil trade. The growing popularity of this forum is an index of the rising importance of India and the sub-continent in the Global Market place.
Mr. Kailash Singh, MD, Tefla's & Organizer Globoil India also feels that Globoil Awards are Global Edible Oil Industry's top business accolades and seek to celebrate visionary leadership & exemplary performance. Past winners includes the who's who of Global Edible Oil Trade & Industry.
About Tefla's:
Tefla's is known for conceptualizing, planning and organizing research based industry specific conference & Exhibition in tandem with industry leaders & Associations. Its event calendar consists of industry specific events which have now become the annual events of various industries attracting wide and comprehensive participation.
Some of its events are: Globoil India, Globoil International, The Sugar Summit, Global Grain Food & feed (G2F2), CEO( Commodity Equity Outlook) Weekend & other proposed events include Global Cotton Conclave, IMMAGE, Gold & Jewellery India, India SME Conclave and Awards,  Agri Food Retail Conclave.Ends