Kailash Chand Kumawat
Gold Medal Award /Platinum Award
( Born   1962 )
I, Kailash Chand Kumawat hail from a small village called Bhainslana, which is in Sambhar region in Rajasthan. My father, Mr. Ganesh Lal Kumawat started working with his father, Mr.Ramchandra Kumawat from the age of 12. My father would paint on umbrellas and gradually moved on to painting on the walls of the forts. He would also work on stones. This art of painting has been carried on in our family from generations.
I lost my grand father when he was only35 years old. When my father would paint, I too, as a child, would help in mixing of colours, how to prepare colours etc. I lost my father after his prolonged illness, when he was only 45 years old. I was only 15 then and was studying in class 7. I started gaining knowledge of colours and tried my hand at painting. After my father's death, our family faced financial problems. Therefore, I came to Jailpur to find work in the art which I knew. I was an absolute stranger to Jaipur and I had no acquaintances there. But I had to promote my art. In Jaipur, I met Guru Sachitanand Joshi. He saw my work and my zeal to succeed. He was impressed with me and he gave me an opportunity to work in his workshop. I persevered a lot, and slowly and steadily starting getting success. I learnt about various colours and different art forms from Mr. Joshi. After working in Mr. Joshi's workshop, I worked in different places for 4 years. Thereafter, I branched out on my own.
Today, my entire family is involved in his work. I have one daughter and two sons, and they too are interested in his work. They help me in preparation of colours, mixing of colours, filling in colours etc. My wife too helps me with my paintings. I am very happy with my work today, and take pride in the fact that through my work. Children are aware of this beautiful form of art, painting and they are keen to know more.
No one will ever say that our children do not know of India's valuable art forms. Whenever I have had exhibitions of my paintings, I have hordes of people, Indians and foreigners, coming to see them, which includes lots of student. This encourages me a lot and I feel proud that even today, these students are eager to learn about this art.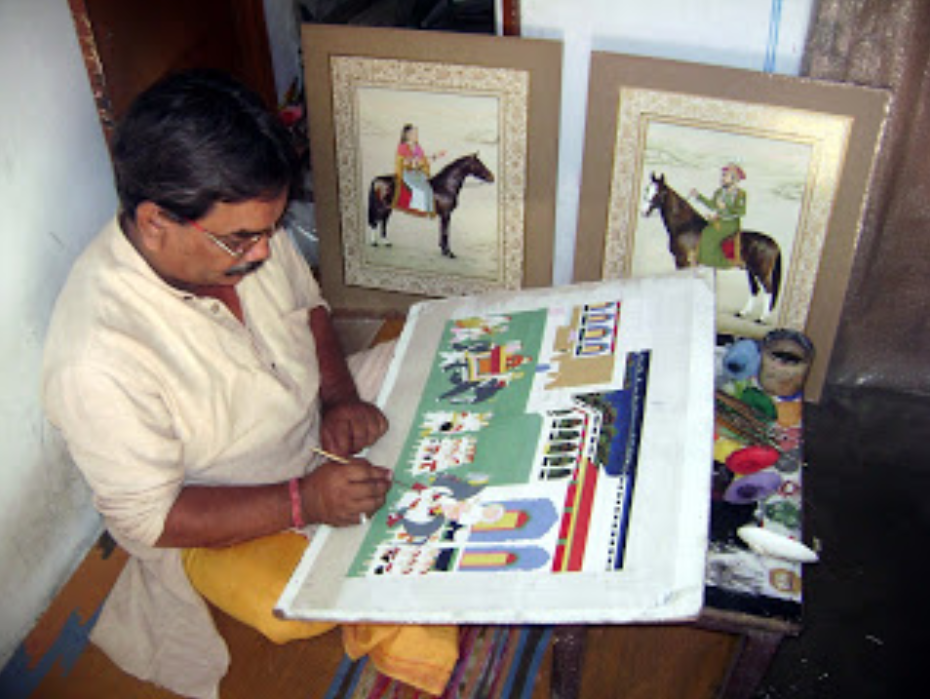 Technique:
A high degree of expertise is required and this art is carried out delicately with a very fine Squirrel here brush and is characteristic of intricate, colorful and rational impressions. The colours used are mainly derived from minerals, vegetables, precious stones, indigo, conch shells, gold and silver which are obtained through a painstaking process.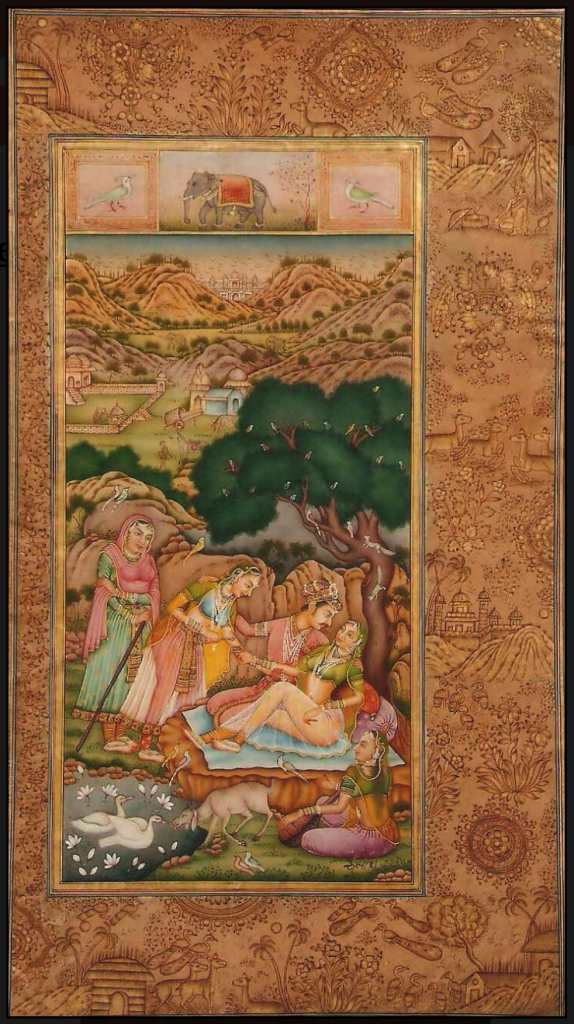 Awards:
Praffula Dhanukar Art Foundation,Mumbai
Kalanand Award 2016
Rajasthan State Gold Medal Award for Folk Art 2016
Praffula Dhanukar Art Foundation,Mumbai
Kalanand Award 2017
Rajasthan State Platinum Folk Artist Award 2017
Experience and achievements:
I have completed 38 years in this field and have had exhibitions in India and abroad. I had exhibitions in places such as:
Mumbai –
Paramparik Karigar, Kala Godha festival, Navi Sager, National Gallery Modern Art (N.G.M.), Chatarpathi Shivagi (museum), Shoper stop, Craft Concial of Maharashtra, Arban Haat, Taj Lands End Mumbai, Taj Hotel, Taj President Hotel,  Nehru Bal Bhavan, Birla Art Gallery, Film Division Surbhi Foundation, Bandra Kurla Complex etc.
New Delhi–
Taj Palace Hotel, Taj Mansingh Hotel, Craft Museum, Pragati madan, Delhi Haat, Mango Festival, Suraj Kund etc.
Chandigarh–
Shilp Bazar, Dastkar Lala Lajpat Ray Bhavan etc.
Bangalore–
Craft Council of Karnataka, Taj Premium Hotel, Dastkar Haat Samiti, Chitrkala Praised, Voice of Awake. Utsav Handicraft Handloom Exportation, Industry Craft Foundation etc.
Chennai–
Dashin Chitra, Taj Coromandel Hotel, Poyampur Tamil Nadu Handicraft Development Corporation L.T.D., Lefaxi Andra Pradesh Handicraft Development Corporation L.T.D., Madras Craft Foundation etc.
Kolkatta–
Karigar Haat Mela, Taj Bengal Hotel, Victoria Garden crafts Conical of West Bengal etc.
Jamsadpur–
Madras Hall, Gram Shree Mela etc.
Amritsar–
Shilp Bazaar etc.
Bhopal–
Shilp Gram etc.
Hyderabad–
Shilp Gram, Taj Krishna Hotel.
Ahmadabad–
National Institute of Design (NID), etc.
Puna–
Shopper Stop, Varchual Exposition, etc.
Coimbatore–
Craft Conical of Coimbatore, etc.
Visakhapatnam–
Craft Conical of Visakhapatnam, etc.
Goa
Taj Holiday Hotel, Taj Exotica Hotel, Taj fort (Lobby) Hotel.
Dubai–
World Trade Centre, Algurar Centre, Jumera Beech, creek bridge Indian fair Safapark, etc.
Abu Dhabi
Abu Dhabi Embassy.
Bahrain–
Lulu Hypermarket, etc, Dana Mall,
Workshop experience:
Mumbai–
:  G.D.Somani Collage of Fashion Design.
:  American School.
:  Birla Academy of Art.
:  Garodiya Collage.
:  Rheahija Collage.
:  Sophia Collage.
:  Jindal Collage.
:  Kamla Nikatan.
: Kamla Rheahija
:  Kamla Hai School.
:  Nirmala Nikatan.
:  National Gallery Modern Art (N.G.M.).
:  Prabha Davi School.
: Javahar Bal Bhavan.
:  Bombay International School.
:  Jasani Department of Jewellery Design
Manufacture S.N.D.T. Woman's University
:  Premlila Vithaldas Polytechnic S.N.D.T.
Woman's University.
:  Chhatrapati Shivaji Maharaj Vastu
Sangrahalaya.
:  Wilson Collage.
:  Bombay Cambridge School
: Sent Josef School.
:  Lelavati School.
:  Gokhla Collage.
:  J.B.Petit High School for Girl's.
:  Shishuvan School.
:  Rachana Sansad.
:  Parasrampuria Gem International School
  (Jaipur).
: Shree Amulakh Amichand Bhimji Vividhalakshi
  Vidyalaya (English Medium – Secondary)
: Lilavatibai Podar Senior Secondary School
: Indian Institute of Jewellery
: Ecole Mondiale World School
My work has been Published in various news papers such as India Today, Times of India, Hindustan times, Maharashtra Times, Mid Day, Bangalore Metro, Bangalore metro (Rajasthan Patrika),DNA hrs etc. Also my work has been published in various books and magazine such as Paramparik karigar, Emerging Artist year book 2016, Emerging Artist year book 2017, Osians Indian modern contemporary Art & craft, the traditional art of India.
I am grateful to my Family, friends and well wishers, who have supported me in at each step and because of their encouragement I have reached this stage.
Kailash Chand Kumawat
(Miniature Artist)
S-36 Bhagirath Nagar,
Tonk Phatak, Jaipur- 302015
0141-2503332, 98290-69101
                                      Website – www.indianparamparikart.com
FOR MORE PHOTOS VISIT OUR FB PAGE : https://m.facebook.com/globalprimenews/posts