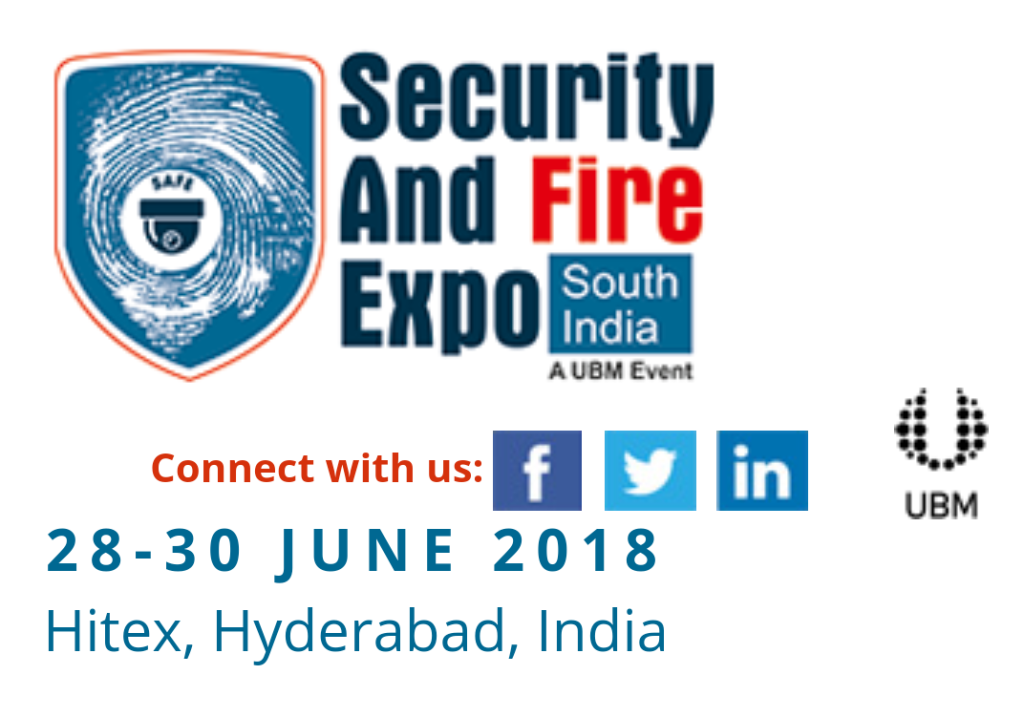 An industry roadmap to success within South India's booming security market by UBM India
Securities Services revenue to reach USD 1.69 Billion by 2019
Central Government has also shown commitment to enhance the security budget by 35%
70 plus brands showcasing their latest technological advancements
Conference on the Changing Paradigm in Security Technologies
Hyderabad, 25 June, 2018 : UBM India, organizers of IFSEC India, the signature expo on safety and surveillance, is all set to bring in the fourth edition of 'Security and Fire Expo (SAFE) South India to be held for the first time at Hyderabad from the 28th – 30th June, 2018 at Hitex. The expo aims to bring together renowned Indian and international brands from video surveillance, access control entrance and home automation, and perimeter protection industry to interact, network, view the latest innovations, source business solutions and gather invaluable expert support, all under one roof. SAFE South India is supported by the Electronic Security Association of India (ESAI) and Asian Professional Security Association (APSA).
With a distinguished line up of key exhibitors and thought leaders on board, the expo will add immense value to the commitment shown by the Central Government to enhance its security budget by 35 per cent. This includes the creation of a dedicated homeland security department, developing coordinated intelligence gathering, protecting critical infrastructure and upgrading maritime security. The revenue for Security services accounted for 61% in three years ago in 2015, and is expected to increase to 66% by 2020. Security spending on hardware, software and services in India is expected to cross the USD 1.69 billion mark by 2019.
SAFE South India will be a launch pad for leading security companies to introduce products in an emerging market, whilst establishing relationships with key decision makers. The congregation will see professionals from across the industry including security and safety managers from Hospitality, IT/BPO & Service Industry, Real estate, Port Authorities, Power plants, Logistics, Construction, Architecture, Automobile, Manufacturing, Industrial, Retail, Jewellery, Health, Education, IT, Networking, Telecoms, Automation, BFSI, etc.
The 4th edition of SAFE South India has attracted prime exhibitors such as Mark Electronics Corporation, Timewatch Infocom Pvt. Ltd., RoadPoint Ltd., N S Enterprises, ACJ Computronix, Advance Infotech, WYSE Biometrics Systems Pvt. Ltd., Mantra Softech (I) Pvt. Ltd., Matrix Comsec Pvt. Ltd., Prama hikvision India Pvt. Ltd., Pictor Telematics Pvt. Ltd., Axestrack Software Solutions Pvt. Ltd., R G International, Lana Technologies Private Limited, Tekno Electro Solutions (P) Ltd., Face ID Systems LLP, HiFocus Electronics India Pvt. Ltd., Enterprise Software Solutions Lab Pvt. Ltd., Futureeye Global Technologies, CAMTECH Solutions, Dahua Technology India Pvt. Ltd., and Vamo Systems Pvt. Ltd., among others.
The event will also be organizing a unique conference on The Changing Paradigm in Security Technologies, slated for Day one, ie 28th June. The conference will comprise in-depth speaker sessions and panel discussions on trending subjects such as 'Security of a New-Age City', 'The Role of Drones and UAVs in Homeland Security', 'Visual Analytics in Ensuring Safe Cities, 'IoT and Security of Assets' and 'The Threat of Cyber Attacks on Surveillance Systems', among others.
Speaking on the announcement of the fourth edition of SAFE India, Mr. Yogesh Mudras, Managing Director, UBM India Pvt. Ltd. said, "The expenditure on surveillance and security has been increasing in the Indian market in recent years. The government has taken various initiatives to increase security services revenue which will benefit the citizens as well as the security and surveillance services industry. After all, a modern civil city should be able to showcase seamlessly safe, smart, energy efficient and technologically advanced features." 
He added, "Notably, for the first time since its inception, SAFE South India is being brought to Hyderabad as a strategy to get the show closer to the end users by rotating it across the several key Indian cities that are situated in South India. SAFE South India provides an exclusive platform for the leading players in the security industry to tap into the growing South Indian market by forging joint ventures, partnerships/associations, sourcing, dealerships and networks." 
About UBM India: UBM India is India's leading exhibition organizer that provides the industry with platforms that bring together buyers and sellers from around the world, through a portfolio of exhibitions, content led conferences & seminars. UBM India hosts over 25 large scale exhibitions and 40 conferences across the country every year; thereby enabling trade across multiple industry verticals. A UBM Asia Company, UBM India has offices across Mumbai, New Delhi, Bangalore and Chennai. UBM Asia is owned by UBM plc which is listed on the London Stock Exchange. UBM Asia is the leading exhibition organizer in Asia and the biggest commercial organizer in mainland China, India and Malaysia.
For further details, please visit http://www.ubmindia.in.
About UBM plc: UBM plc is the largest pure-play B2B Events organiser in the world. In an increasingly digital world, the value of connecting on a meaningful, human level has never been more important. At UBM, our deep knowledge and passion for the industry sectors we serve allow us to create valuable experiences where people can succeed. At our events people build relationships, close deals and grow their businesses. Our 3,750+ people, based in more than 20 countries, serve more than 50 different sectors – from fashion to pharmaceutical ingredients. These global networks, skilled, passionate people and market-leading events provide exciting opportunities for business people to achieve their ambitions.