India's first zip line comes to Greater NOIDA
~ Grand Venice Mall unveils 'Mastiii Zone'- India's largest indoor entertainment zone ~
Never-before experience for complete family entertainment~
Greater Noida / New Delhi,  25 December, 2017 (GPN) : The Grand Venice Mall, India's only mall built on the lines of Italian City of Venice launched their entertainment & gaming zone-'Mastiii Zone' today. The Grand Venice has opened doors to people of all ages with the most entertaining and exciting activities and has a string of exciting games lined up. Loaded with thrilling and recreational attractions, this gaming zone presents an unmatched range of games that offers a superlative experience for the adventure freaks. The Grand Venice Mall has also introduced a few unique Venetian adventurous activities, the first of its kind in India.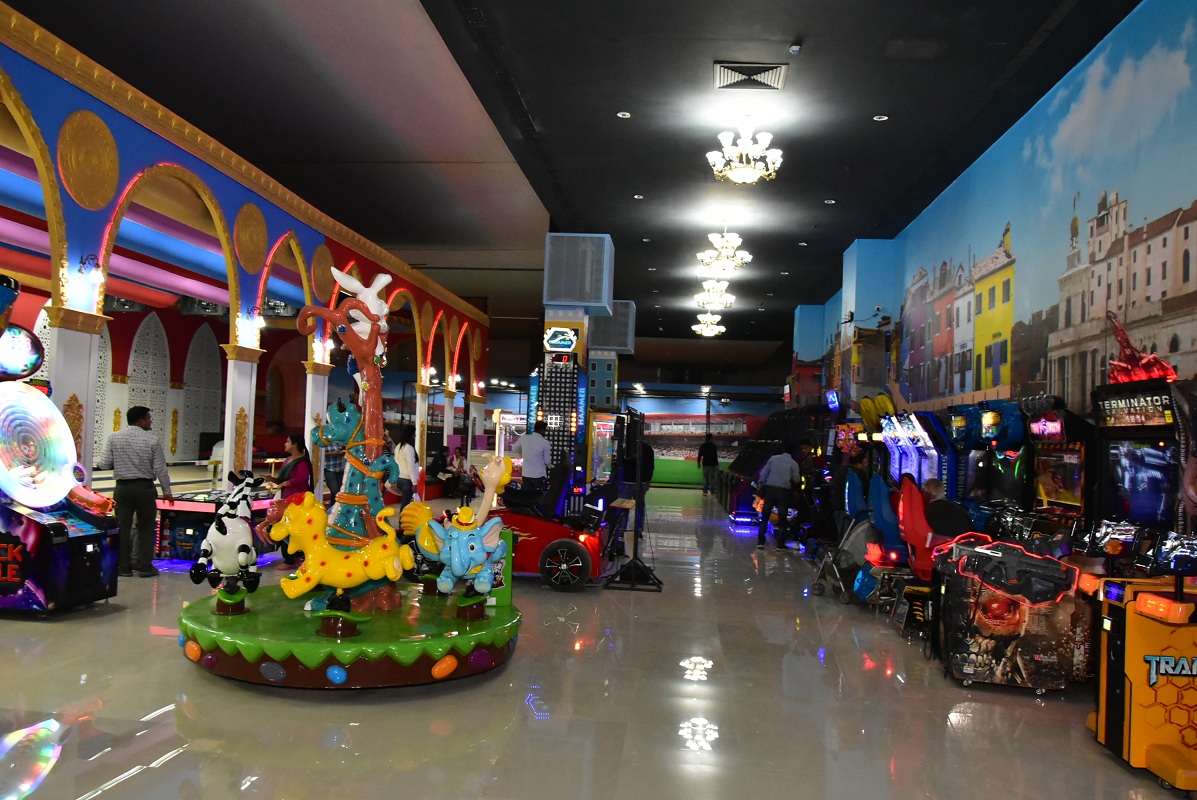 The highlight of Mastiii Zone is Zip Line Ride which is the first ever in India- A zip line ride is a unique and exhilarating experience during which you fly down a series of ultra-strong steel cables, attached by a harness and pulley.
Virtual Reality Arcade- It offers a wide-range of games and virtual reality experiences, for instance, a simulation of climbing Mount Everest, deep-sea diving etc.
House of Dead- India's Scariest House- a Haunted house has lots of scary things in it – ghosts, skeletons and lots more!
Other than these unique and exciting activities, Mastiii Zone also offers 7D theatre, Archery & Shooting, Bowling Alley, Cricket Lanes, Dashing Cars, Kids Play Area, Pendulum Swing, Carnival Games. There is a huge list of Arcade Games (almost 100 games), you name it and it's all there under one roof. The mall is also going to add Snow Park in the Mastiii Zone early next year.
Mastiii Zone, one of the best and most loved brands of FEC (Family Entertainment Centres) in India, is the place to be in for hours of hassle-free fun. It promotes active play in safe, secured and conveniently accessed locations of the city. Known for serving entertainment through latest and the best equipment, Mastiii Zone is India's well-known gaming and entertainment centre that merges sports, virtual reality into an immersive, evolved, interactive and innovative social experience for family, friends and children alike.
Talking about the launch Mr. Satinder Singh Bhasin, Managing Director, The Grand Venice said, "We are thrilled to unveil Mastiii Zone in our mall. It has something on offer for everybody! From toddlers to grandparents, we have entertainment options that span generations and bring people together. The colossal increase in the number of people visiting us has encouraged us to do better and better. We constantly try to provide wholesome family entertainment apart from best of shopping experience to all our customers."
"We are making sure that consumers get the best experience with ease. Expect a never-ending series of horizon-broadening experience for your entertainment only at the mall along with shopping & food. Archery & Shooting, hi-tech games and a bowling alley ensure that adults have a plethora of leisure options. For birthday parties, anniversary parties, school trips, corporate parties and kitty parties, Mastiii Zone has the best offers and packages for complete entertainment of one and all." said Ms. Queency Bhasin, CEO, The Grand Venice.ENDS