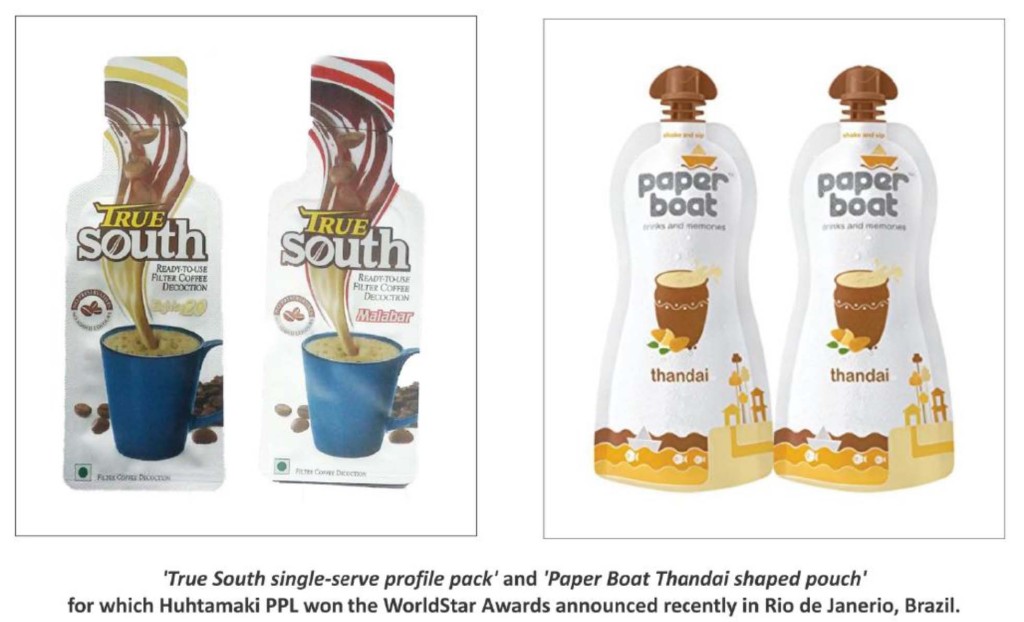 Mumbai, 15 December 2017:  Huhtamaki – PPL was awarded two WorldStars during the judging that concluded in Rio de Janeiro, Brasil last month.
Representatives from 16 packaging associations and members of World Packaging Organization (WPO) were on the panel judging 318 packaging projects from across 38 countries. Japan, India and China were among the top three countries to receive the highest number of WorldStar awards.
Huhtamaki PPL won two WorldStars in the 'beverages' category, for its 'True South single-serve profile pack' and 'Paper Boat Thandai shaped pouch'. HPPL was also awarded a Certificate of Merit for Godrej Ezee's shrink sleeve that was nominated in the 'labeling and decorations' category.
WorldStar is a pre-eminent international award in packaging and illustrates a living standard of packaging excellence. A WorldStar is presented only to those packages which have already won recognition in a national competition. The winning is based on the judges' consensus that a package is superior in its own right and by comparison better in its class in execution or innovation. Receiving such recognition is testimony to HPPL's experience, knowledge & technical competencies.
Huhtamaki PPL Limited is India's leading manufacturer of primary consumer packaging & labelling materials with annual consolidated revenues exceeding Euro 300 million. It is the largest manufacturer in terms of volume of finished flexible packaging in the larger Africa – India – Asia Pacific region, excluding Japan.ENDS