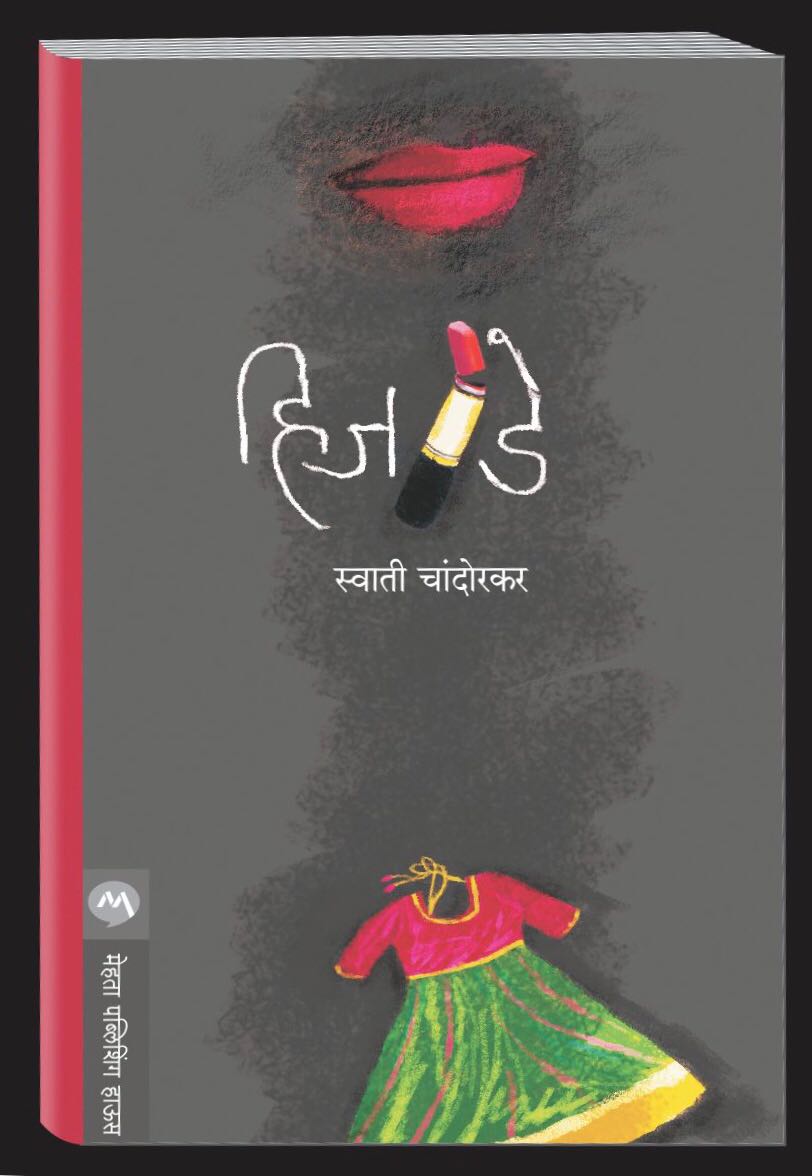 MUMBAI, 8 December, 2017 (GPN) : The Marathi Novel named "HIS DAY" a play on the word – HIZDE authored by Mrs Swati R Chandorkar released through open publication during a function held at GSM Banquet Hall, D N Nagar, Andheri west, Mumbai amidst huge gathering of dignitaries and distinguished persons from the field of Marathi literature.
Amongst the famed dignitaries, Prof Mr Pravin Davne, a renowned name in Marathi Literature; Mr Pradip Velankar & Mr Pramod Pawar, both renowned as well as senior stage & TV artist; Mr Chandrakant Mehandale, critic & column writer on Marathi Stage graced the function and expressed their views.
The special participation of leading entities from Transgender community, namely, Sanjivani, Madhuri Sharma and Vicky Shinde along with the graced presence of Ms. Hemangi Mhaprolkar, clinical psychologist associated with several NGOs working towards the betterment and welfare of LGBTQ community for the past 14 years, added to the charm and exuberance of the evening.
The dignitaries while appreciating the novel, highlighted that this could very well be the first of such fine work in Marathi Literature, which dwells on the subject of social status of transgender individuals, their lifestyle, struggles, grievances and the misplaced apathy/hatred of general society by denying their very existence.
The author, Mrs. Swati R Chandorkar, placed her experiences of dealing with transgender community and said that everyone in the common society normally shares a curiosity to know details of Transgenders but denies to say so openly. I was determined to know about their ethnic groups, self proclaimed governance bodies controlling these groups and sects of Transgenders, their life styles, their way of procuring means of life and also their expectations from the Society and Govt as well. She says, "my objective behind this novel was to place the hard facts of Transgenders before the Society and make sincere efforts to have their due recognition and acceptance instead of denying it altogether and avoiding them with hatred.
This Novel of Ms Swati [who is the daughter of well known Marathi Author Late Mr. Va Pu Kale] happens to be the 9th Novel published so far. Leaving apart the common themes /subject, she has always focused on different subjects like Euthanasia, issues & conflicts of priests performing only the last rites etc. Besides the novels, she has also authored several story books and 13 books on transcription of thoughts & philosophies of Saint Osho [Acharya Rajneesh].
The function was concluded with dance performances of Mujra, Badhai and Lavani by the artists from amongst the Transgenders.
This novel is published by a renowned publishing Firm in Marathi Literature "Mehta Publishing House "from Pune.
* Bio Data of Mrs Swati Rajan Chandorkar *
Mrs Swati Rajan Chandorkar
{ Daughter of well fame popular Marathi Author Late Mr Va Pu Kale }
Birth : 21 June 1961
Education : Bachelor in Home Science
Hobbies : Classical dance , Painting ,Music , Stage performances & Reki
Residence : Andheri west -Mumbai
# Literature -Published so far #
: NOVELS : : STORY BOOKS :: : Transcription of Literature of Saint Osho "
1] Euthanasia – 1] Gol Gol Ranee 1] Mire Chya Prem Thirthavar
2] Pavitram – 2] Celebration 2] Meera -Ek Vasant Aahe
3] Ek Payaree Var- 3] Kala Kabhinn 3] Meerechee Madhu Shala
4] Forward & Delete – 4] Aani Vikramadity Harla 4] Meera Shaym Rangee Rangalee
5] Anahat 5] Mrutuche Amartwa
6] Utkhanan 6] Mrutyayushee
7] Shesh 7] Nanak-Sansaree Sanyast
8] His Day 8] Nanak- Soor Sangeet Ek Dhoon
9] Nanak – Parmatmyacha Naad Omkar
10] Nirvan Upanishad
Biography : 1] Vapu { on her father }
FOR MORE PHOTOS OF THE EVENT VISIT :https://www.facebook.com/globalprimenews/