Mumbai, 28 October, 2016 (GPN) : Ahead of the most awaited crucial local bodies' elections, including the Mumbai civic polls in early 2017, the agenda in the political parlance is will the Sena BJP alliance get appraisal from the respective party Chief.Will the relationship between them– stand together ?
Former Sena MP and political commentator Bharatkumar Raut said, "I will describe the Sena-BJP relationship as one based on pure political adjustment. There is no meeting of the minds, forget the hearts."
"Any alliance that involves a second hand treatment with feeding leftovers meals as per say the circumstances it cannot bring the desired integration in pursuing a optimum political agenda," he added.
A BJP Cabinet minister said, "In coalition politics, conflict is in-built. The Sena's problem is, it wants to regain its leading party status in Maharashtra vis-a-vis the BJP. They can get mileage only if they target the PM or CM."
Politicians in the BJP and the Sena are unanimous that party politics won't impact the government in the state or at the Centre.
Sources added in the last two years ever since the coalition there was no such period where the allies have not differed or passed the buck at each other on matters of policies and governance .
The Sena's mouthpiece Saamana repeatedly raised voice against the CM and PM irrespective of their party position.
On the contrary the BJP left it to their party workers to take the Sena head-on and expose its "mafia" and "corruption" raj in the Brihanmumbai Municipal Corporation (BMC).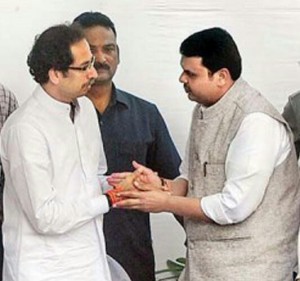 According to senior commentator on Maharashtra politics, Abhay Deshpande, "The Congress-NCP differences were worse and they plotted to undermine each other's growth. But when it came to public face, they had a mechanism to defuse the differences, which is lacking in the Sena-BJP alliance."
While describing the Sena-BJP alliance as a "marriage of convenience" where partners are constantly quarreling with each other, he said, "I don't see these developments affecting the government."
Both Sena and BJP officials admit, "When it comes to personal rapport, Fadnavis and Uddhav are on excellent terms, speaking on the phone regularly and ironing out issues."
The Sena is trying its best to get the BJP onboard for a poll partnership in the 2017 BMC elections. On its part, the BJP has taken the first step by sewing up the alliance for 212 municipal councils and panchayats. It impressed on the Sena that their alliance would help consolidate their base against the Congress-NCP. It was conveyed that if they contest alone, it would neither help the Sena nor the BJP.