• Group insurance at sum assured of INR 25,000
• OCARE takes dental insurance to the mass market

Mumbai, October 27, 2016 (GPN) : In a first ever, OCARE, India's first, and only, independent Insurance Process as a Service (IPAAS) platform, today launched the first ever Dental Insurance Product in the country. A Group Insurance product, it offers a sum assured of INR 25,000/-. Additionally, in its nationwide effort to offer dental insurance mass-market, OCARE has also started a unique endeavor to offer its products through the country's Gram Panchayats, by providing Group Dental Insurance to villages.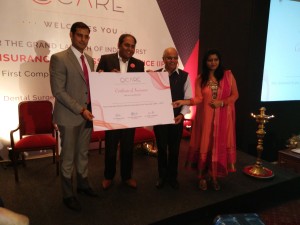 Vihigaon, a village panchayat located in the Buldhana district of Maharashtra state, India, becomes the first village to be covered by OCARE Dental Insurance.
The product was unveiled by Hon'ble Member of Parliament of the Rajya Sabha, Shri Vinay Sahasrabuddhe.
The luminaries who presided over the launch event were Dr. Chandresh Shukla and Dr. Ashmita Singh from Dental Council of India.


Speaking on the launch, Dr. Neeraj Sheth, Founder & CEO said, "Statistics say that nearly 200 million Indians chew tobacco making India the world's mouth cancer capital. With rising dental healthcare costs and the urgent need for preventive oral healthcare, we believe that the demand for affordable, easily accessible and hassle-free dental insurance products will rise exponentially. OCARE aims to achieve this through its unique IPAAS platform."
"This is the first time Dental insurance is being offered as an exclusive product in India. Usually it is clubbed with health insurance and available under the general health insurance plans, where dental ailments are not covered exclusively, and only the hospitalization and medicinal costs arising due to a dental emergency are covered," he added further.
Diwali, being an auspicious occasion for the entire country, makes it the perfect moment to launch OCARE dental insurance, an innovative product that is all set to transform the Indian oral healthcare ecosystem by making dental treatments accessible, affordable and achievable for every Indian citizen.
•Highlights of OCARE Dental Insurance:
First Time a Dental Insurance Plan Launched in India
Covers pre-existing conditions
No waiting period
Product highlights include:
Oral hygiene kit
OCARE Dental Insurance with a minimum sum assured of INR 25,000/- per annum, per person
Loyalty card with points redeemable for dental services
Bi – annual dental checkups