Mumbai, 6th October 2016 (GPN) : This festive season you can't afford to miss visiting the sprawling 21,000 Sq. ft. of India's biggest Property Expo scheduled from October 6-9, 2016 at MMRDA Grounds, BKC, organized by MCHI-CREDAI. With free entry, each one is welcomenoo at the exhibition. Day one saw a host of Property & Housing Finance options, along with never before & never again offers on properties ranging from Rs. 10 Lakh to 10 crores.

After 15 Years and 26 Editions which provided homes to 30 lakh+ buyers; this year the property exhibition is all set to offer home buyers with key International projects, special offerings for NRI's, sample flats on show, lucky draw, Rs. 15 Lakhs & cash back offers from developers, multiple financing options, properties across affordable & luxury across the country amongst others. The Digital Expo that commenced on 21stSeptember had a great response with more than 12000 enquires coming through the same. You can visit www.mchihomes.com to know about various offers and host of property options.
Mr. Tejas Vyas, Chairman, Exhibition Committee, "Going forward, a rise in demand from home buyers will most likely be driven by the mid-end and affordable housing segments, which will be concentrated mostly across secondary or peripheral locations of leading cities. Hence, we are glad it's being brought up by MCHI-CREDAI. This year's Exhibition would be unique in many respects and we are working round the clock to provide unforgettable experience to our participants and visitors. We are quite positive that the 27th edition of MCHI – CREDAI property exhibition will act as a catalyst in driving the consumer sentiments and make this festive season a fruitful one! "
The top developers in town which participated in Great Mumbai Property Exhibition include DB Realty, Kanakia Spaces, Ajmera Realty, Rajesh LifeSpaces, Sai Estate, A & O Realty, Neelkanth Group, Oyster Living, Vijay Suraksha, Piramal Realty, Romell Group, Wadhwa Group, Godrej Properties, Mayfair Housing, and Neelkanth Group among others. Prominent Banks & HFCs like SBI, Axis Bank, ICICI Bank, PNB, Dena Bank, UCO bank, HDFC, PNB Housing Finance, Tata Capital, India Bulls Housing Finance, LIC Housing Finance and many more.
Speaking on the occasion, Mr. Govind Sankaranarayanan-Tata Capital Housing Finance Limited is pleased to be associated with MCHI-CREDAI. This is a great platform for housing finance companies and developers alike to offer great value to all stakeholders across the real estate industry, considering the steady increase in demand for homes. Tata Capital Housing Finance Limited is committed to providing comprehensive housing finance schemes across all consumer segments. With our foray into the affordable housing segment and continued focus on the urban middle income segment, we aim to empower every potential home buyer to own his dream home.
Speaking on the occasion Mr. R.Vaithianathan, Managing Director, Tata Capital Housing Finance Limited, "Tata Capital Housing Finance is committed to being a comprehensive home financier, present in all segments of market and catering to both developers and home buyers. Thus, we are honored to partner with MCHI, which gives us great reach and visibility among all segments. The EXPO is a great platform for housing finance companies and developers to come together and showcase their offerings, providing great value to all stakeholders in the real estate industry."
Guest of Honour Mr. James Law Founder & CEO – James Law Cybertecture," The new generation of Indians will want a new generation of Architecture to live and work in. Let us at this Expo explore the opportunities of Smarter Buildings and Smart Cities to make be better environments to live and work in, and better investments for the future of Indian cities."
The expo was focused towards giving out offers like home automation facility, international tours, modular kitchen at zero added cost, price discount of 50%, membership at gyms & recreational clubs, mobile phones/laptops/I-pads, electronic appliances at zero-added cost, gold coins as a good luck charm on bookings, vehicles while booking the flat as an initiative to enhance lifestyle quotient to improvise the buyer sentiment given, currently real estate industry has been passing through transformational phase with lot of activity happening around.
Mr. Dharmesh Jain, President, MCHI-CREDAI, "The transactions in real estate and their respective proceedings involve lot of complexity and legal formalities. There have been many significant cases when commitment given by the builder was disrespected or possession dates were delayed. Builders could not be made accountable because of lack of any registered law. We are glad that the act is now getting balanced version which is agreed upon by both buyers as well as builders. Hence this year our focus at the expo is to provide single-window clearance mechanism that will help in solving the problem of delay in possession alongside proving them value additions while getting their dream home."
T. D. Joseph, Event Head at MCHI-CREDAI states, "The exhibition is a great assortment of commercial, retail, second homes & plots, apart from residential apartments & plots. We are proud to acknowledge that this is the only expo which has recorded a good number of closures of deals in earlier exhibitions this year also we expect good turnaround."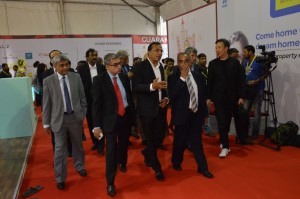 Home buyers could make most of this festive season by visiting the property expo which is laden with limited time period offers so that they save money. All housing projects displayed under one roof which cater to all tastes – luxury to affordable, commercial to residential, will be like a one-stop-shop for home buyers.