•Mega Media Conference Opens 16th-20th September,  2016.
•INAUGURAL SESSION  conducted on 17th September with a speech on "Spirituality in Action – Key to Social Transformation" – Prof.(Dr.) M.S. Acharyulu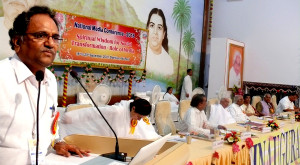 Mumbai / Abu Road, Sept.27, 2016 ( BY JAGRUT BHANUSHALI- GPN ):The Arrival,  Registration and Campus visit along with the Reception  Session for the 5-Day National Media Conference 2016 began on September 16th.It was organised  and hosted by Media Wing,  Rajyoga Education and Research Foundation jointly with Prajapita Brahma Kumar Ishwariya Vishwa Vidyalaya at the Brahma Kumaris, Shantivan Campus , Abu Road, Rajasthan, India.The Meditation Session comprised of Role of Spirituality and Meditation in Every Day Life. The Inaugural Session was conducted on 17th September with a Meditation  Session on Awareness of the Inner Self. Guest of Honour-
Central Information Commissioner, Prof.(Dr.) M. Sridhar Acharyulu said that there is an urgent need for processing of
information to knowledge and knowledge in turn to spiritual wisdom in all the walks of life especially in the field
of mass media to bring about positive changes in peoples' life and society.
He said this while inaugurating the 5-day National Media Conference on "Spiritual Wisdom for Social
Transformation – Role of Media" organized by the Media Wing of Brahma Kumaris Organisation's Rajyoga
Education & Research Foundation at their Shantivan campus spanning from September 16th to September 20th.
Prof. Acharyulu said that inspite of modern day media's deliberate tilt towards sensational, titillating and negative
news, dedicated columns, audio visual space and time slots are increasingly being ear-marked for target audience
by even mainstream print and electronic media of different kinds and categories.
He further said that while Pulitzer Award Winning Photo of a naked and semi-naked children running away from
bombardment could change Nixon's mind to stop Vietnam war in 1972, another Pulitzer Award winning photo of
a girl child scrambling for food (near a Refugee camp in a drug addict Sudan) and a vulture in waiting for eating the girl child depicted the pathetic picture of tussel between human values and media professional values.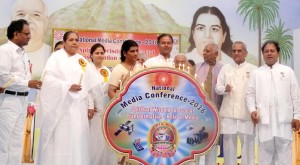 He said that at this juncture conflicts of values and interest, what comes to our rescue are innate wisdom in action
that are righteousness, good conduct, honesty and integrity of character especially in life and profession of
journalists through regular practice and promotion of spiritual values, Rajyoga meditation, simple and healthy
lifestyle. Blessing the inaugural session with her words of wisdom of Rajyogini Dadi Ratan Mohini, Jt. Chief of
Brahmakumaris urged the participating media professionals to work for promoting peace, health, harmony and
happiness in self and society through practice of spiritual knowledge, meditation and universal values.
Mr. Basav Raj Patil, Member, PM of India's Economic Advisory Council speaking as Guest of Honour said that the
decline of values mass media after 1992 globalisation has become the cause for concern. He said that moral and
spiritual principles should guide and regulate our character and conduct including that of mass media.
While Prof. Kamal Dixit, National Coordinator, Society of Media Initiative for values in his key note address
stressed on the urgent need for media professionals to be guided by inner conscience and powers through the
practice of divine meditation; Prof. Sanjeev Bhanavat, H.O.D., Mass Communication, Rajasthan University called
for combined efforts on the part of audience, journalists and civil society to combat the onslaughts of commercial
, cultural and linguist challenges posed by modern corporate media.
Chairman, Media Wing & Multi-media, Chief of Brahma Kumaris, Rajyogi B.K. Karuna in his welcome address
earlier urged media not to become subservient by external forces of worldly powers and privileges, but to be
solely guided by their inner instincts, intuition and conscience with the help of Brahmakumaris' teachings on
Spirituality, core values and Rajyoga meditation to build better life and society.
At the end, Brahmakumari Hemlata, Chief coordinator, Indore zone services of Brahma Kumaris conducted mass
Rajyoga meditation for hundreds of media participants while B.K. Shantanu, H.Q. Coordinator of Media Wing
offered vote of thanks.
Mr. Raju and his cultural group from Bangalore presented value based songs and divine dance.