Announces sponsorship of Ireland teams for T20 Cricket World Cup
Mumbai ( GPN) : Tourism Ireland CEO Niall Gibbons will make his first official trip to India in February 2016 to promote the island of Ireland to the Indian travel trade and media.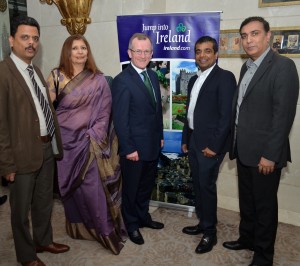 During his visit, Niall Gibbons announced Tourism Ireland's sponsorship of the Ireland men's and women's cricket teams for the upcoming ICC T20 Cricket World Cup 2016 which kicks off on 8th March in India. Niall said, "Sport-related tourism has emerged as a very significant element in world tourism in recent years. Our sponsorship of the team in this year's ICC T20 Cricket World Cup offers us a superb opportunity to highlight the island of Ireland. Tourism Ireland intends to leverage the media exposure of the tournament – with its Ireland.com logo prominently displayed on the playing shirt of both the men's and women's teams. It's wonderful for us to be involved in a sport that has such a wide appeal in India and we look forward to connecting and communicating with a wide audience of cricket fans."
Speaking about his visit to India, Niall added, "India is an important emerging market and one that Tourism Ireland is committed to growing over the coming years. The island of Ireland has seen a year-on-year growth of over 25% from India over the last few years and we expect this trend to continue. This growth has been fuelled by the recently launched British Irish Visa Scheme which makes it easier for tourists and business visitors to visit both Ireland and the UK, including Northern Ireland, without the need for separate Irish and UK visas. In addition, Indian travellers now have increased air access to Ireland, particularly through increased air services by Etihad Airways and Emirates via the Middle East."
Niall stated, "There has been an increased interest in the island of Ireland through Game of Thrones which has been filmed in Northern Ireland as fans of the Game of Thrones™ series from across India are now familiar with locations such as Dark Hedges in Country Antrim and Cairncastle. More recently, the UNESCO world heritage site that is Skellig Michael is located on the Wild Atlantic Way on Ireland's west coast and has been wowing audiences since the release of Star Wars: The Force Awakens, where the final scenes of this record-breaking movie were filmed. A trend we are seeing from India is the increase in demand for self-drive holidays  and we believe that our iconic touring routes – The Wild Atlantic Way and the Causeway Coastal Routes will appeal even more now to the discerning Indian traveller."
Commenting on the potential of the island of Ireland as a holiday destination to Indian travellers, the CEO said, "We are confident that Indian travellers will love the breath- taking landscapes and rural idylls as well as the buzzing urban hubs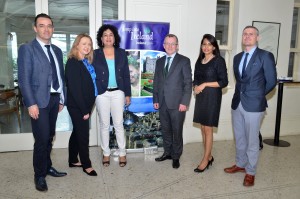 and amazing festivals of Ireland. All through 2016, Northern Ireland will host special foodie events, festivals, money-off deals, pop-up restaurants, unique tastings, cookery class and food trails galore as part of the NI Year of Food & Drink 2016."
In 2016 and beyond, Tourism Ireland will also focus on increasing the knowledge and experience of the island of Ireland among the travel trade as well as the media through familiarisation trips, workshops and seminars for frontline staff as well as the Ireland Specialists online travel trade training programme.