Mumbai, 6 February 2016:Signifying the growing importance of mobile photography globally, OPPO Mobiles, a leading global technology brand, is targeting for a year of growth in India. Emphasizing its continuous focus on mobile photography via "OPPO Camera Phone", OPPO conducted its first sale of recently launched the Selfie Expert OPPO F1at the OPPO showroom in Mumbai today. First customer on the occasion was the famous Bollywood actress MinisshaLamba, who became the proud owner of the newly launched "Selfie Expert" OPPO F1.
Excited on being the first OPPO F1 customer, Minissha Lamba said, "Our phones have become an extremely important part of our lives and I use my phone also a camera because I love take perfect selfies. Recent launch from OPPO is Selfie Expert and I feel proud to be the first owner of F1. I am looking forward to take awesome selfies and wish OPPO luck for growth in Indian market."
The OPPO showroom at the Malad West in Mumbai is already very popular among people especially the youth and is witnessing huge footfall every day. OPPO's entire range of camera phone devices starting from entry level to mid-range smartphones are on display at the showroom and users can get a touch and feel of the devices and experience its features before making the decision to purchase it. 
Announcing the company's plans Mr. Elvis Zhou, Sales Head – Mumbai, OPPO Mobiles Indiasaid, "We have seen amazing response from our customers in Mumbai. India is an important market for OPPO and we are expanding our sales and service network to expand our reach in the country. Through First Sale initiative we want to reiterate our commitment towards Indian market and are confident to get positive feedback for recently launch OPPO F1."
Dubbed as the "Selfie Expert", the F1 features a standout 8 MP front-facing camera with a wide f/2.0 aperture lens and a 1/4-inch sensor, a sophisticated Pure Image 2.0+ photography platform offering OPPO's Beautify 3.0 feature, OPPO's patented Screen Flash to make snapping selfies in low-light conditions, and can shoot selfies using hand gestures and spoken commands, ensuring stunning selfies in all conditions.The F1 is specially designed with powerful software and hardware to make capturing stunning selfies a breeze, with a Qualcomm Snapdragon 616 series Octa-core processor with 3GB RAM and 16GB ROM, all backed by OPPO's spectacular build quality with a silk feeling metal panel.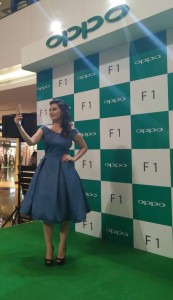 OPPO has renewed its brand association with Bollywood superstars Hrithik Roshan and Sonam Kapoor earlier this month to further accelerate its marketing campaign in South Asia Region. OPPO has entered into a 3-year partnership with FC Barcelona and recently announced its Official Global Partnership with International Cricket Council (ICC) for the mobile phone category for four years starting 2016. OPPO has been globally ranked at number 8 in terms of smartphone shipment and has sold 50 million units in 2015 according to a recent report by  Trendforce.

OPPO currently has 21 phones including flagship models such as the R7 Plus, R7 Lite, Mirror 5, R5 and Find 7.The company will also expand its offline sales outlets to 35,000 and target 180+ service centers across the country. Additionally, OPPO has also announced a 30-day replacement period and 24-month warranty policy for every OPPO product sold across India.