Young Chef Olympiad 2016
27th January 2016 – 1st February 2016
The World's Biggest Olympiad For Culinary Students
67 countries, 67 top student chefs on India's 67th Republic Day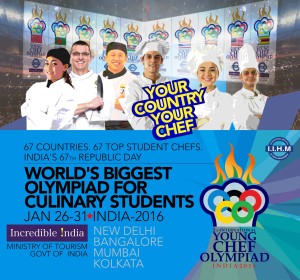 Mumbai, 20 January 2016: International Institute of Hotel Management (IIHM), India's largest hotel school chain hosted a Master Class with Chef Shaun Kenworthy,Chef Mentor & Director, IIHM in Mumbai today to showcase what's in store for the 2nd edition of the Young Chef Olympiad (YCO), the world's biggest Olympiad for culinary students that will serve as a platform to connect culinary talent from across borders. The evening curtain raiser saw conversations on food and dialogues on culinary talent mingle amongst chefs, enthusiasts and foodies.
The venue was buzzing with discussions on world cuisine as Chef Shaun Kenworthy cooked up gastronomic delights from his vast repertoire of dessert recipes and fashioned a fusion of Indian and International creations that had the audience asking for more. Titled, 'A Trifle Indian', the delectable centerpiece of the session captured his journey from the UK to India.
Amongst tasty bites of hors d'oeuvre and delicious savories Rupinder Khurana, Director IIHM Pune, played the perfect host as he took the guests through the YCO concept and the immense impact it will have on the student chef community and the hospitality industry as a whole. The entire IIHM team was discernably excited to be hosting the international chef mentors and student chef contestants from 67countries later this month.Mumbai will see the presence of 11 countries which will include Finland, Kenya, Srilanka, USA, Nigeria, Peru, Romania, Hong-Kong, Russia, Iran & Kuwait ; who will arrive with their best student chef along with their mentors on 28th January 2016.  Renowned and distinguished chefs from the city also joined in to share their support for the global initiative.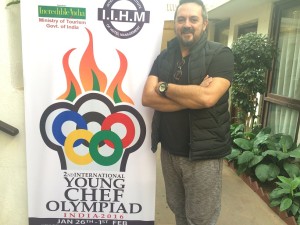 This was an introduction to the 6 day grand event. The second edition of YCO will play host to over 67 countries in India for the much awaited culinary competition that will be spread across 6 days and 4 cities as the participating culinary students contest for the grand title and a cash prize of $10,000. Starting with a grand opening ceremony on 27th Jan 2016 at Talkatora Indoor Stadium, New Delhi where the biggest culinary heats of the planets will take place; it will be followed by cook-off in all the four cities culminating into a Grand Finale to be held in Kolkata on 1st February, 2016. Each country will be sending in their best student chef along with their chef mentors to compete for the winning honor. This year the YCO will see the best of the culinary art students from England, France, Malaysia, China, Switzerland, Australia, USA, Spain, Sweden, Honk Kong, Canada and more.