All India, 31st December 2015: Nightlife in Jamaica showcases its rich and vibrant native culture. It is flavored by a unique blend of international tourists that flock to this beautiful island nation. Staying up all night has its thrills when you are in Jamaica. Whether your taste runs towards the quiet and secluded spot or towards wild, youth oriented clubs, towards tourist hot spots or the hang-outs favored by locals, you're sure to find a nightlife scene that will leave you with lasting memories of your Jamaican vacation.

Naturally, in a nation that has left its mark on the international music scene with its own reggae style, music is an important part of the nightlife of Jamaica. There are numerous music clubs, nightclubs, bars and restaurants that feature live music of all sorts, including island favorites reggae, ska, calypso, and soca. A country with a cultural heritage as diverse and proud as Jamaica is bound to offer the best in local nightlife and after-dark entertainment. Jamaica offers visitors enough entertainment for several nights.
Clubs in Kingston cater to all personalities and interests. Knutsford Boulevard has a number of bars and clubs along the street which cater for partying holidaymakers offering a plethora of after-dark entertainment. Clubs like Asylum, Quad, Peppers, etc offer visitors a sensory taste of genuine Jamaican nightlife, diversity and culture. The Center Stage Theatre is for more family-oriented entertainment and is a famous nightlife spot in Kingston one must visit.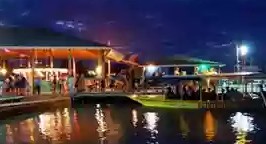 Ocho Rios is a place where visitors can relax by the water during the day and enjoy some hours out in the town at night. For partygoers the best bet is Amnesia, a traditional Jamaican nightclub filled with live music and energetic parties. Another famous spot is Margaritaville at Island Village which nearly hosts a memorable party every night.
If spending an evening in Negril, folks can hit up Rick's Café to enjoy the sun go down with a drink in hand and watch adventurous cliff-divers. Another famous spot for great nightlife in Negril is Hedonism II, a place famous for its bacchanals and high-end service.
Montego Bay offers the famous Glistening Waters Restaurant and Marina for dining, disco and drinks overlooking the glowing river. Risk takers can visit Jackpot Jungle, for a premiere gaming experience.
Jamaica certainly offers a wide variety of nightlife options and adventures. The island nightlife is pleasurable, memorable and safe. Jamaica proffers best of nightlife scene.